News
Government should finance anti-terror measures, Danish mayors say
---
This article is more than 6 years old.
The cost of measures to fight terror in Denmark is increasing in the country's big cities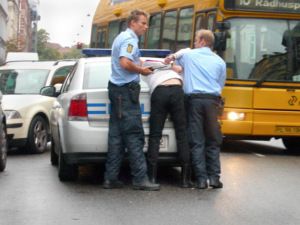 Every time a big sporting event or other occasion that draws large crowds takes place, municipalities are having to spend millions of kroner on security measures.
As these security measures are dictated by the police and security services, the mayors of the four largest cities in Copenhagen are now appealing to the government to step in financially, reports Jyllands-Posten.
If the municipalities continue to have to bear the costs of anti-terrorist security measures, then core areas of the welfare state such as the building of schools and institutions will suffer, say the mayors of Copenhagen, Odense, Aarhus and Aalborg.
Copenhagen Mayor Frank Jensen would like to see the government take over. "The threat of terror is obviously a question of national security, so it would be strange if the government did not contribute its share," said Jensen.
Major cities face high costs
Over the next few years, Aalborg and Aarhus expect to have to spend a double-digit million kroner amount on security, while for Copenhagen it will be up to three digits.
One of the problems that the mayors have is that security against terror comes under the so-called 'anlægsloft', a rule that dictates how much money the municipality can spend on construction.
According to the finance minister, Kristian Jensen, the amount for 2018 has already been increased. "The municipalities themselves will have to choose how they allocate the money that has been agreed on," said Jensen.
The mayors would like to see the matter included in the negotiations for next year's budget.
Two more bystanders shot in Nørrebro
Last night, shots were randomly fired in Nørrebro in two separate incidents involving the same gunman. Two bystanders – a man and a woman – were hit, a police press release confirmed.
In the first incident, shots were fired at a person on the corner of Heimdalsgade og Nørrebrogade, but nobody was hit.
Later, a police patrol car caught up with the gunman, who then fired several more shots. A woman who turned out to be a Swedish citizen was hit, and a man was also hit by a stray bullet. After an operation the woman's condition is reported to be stable, whilst the man was not seriously injured.
Shortly afterwards the police arrested the gunman on Krogerupgade after firing two warning shots at him. He has been identified as a 26-year-old from the area around Blågårds Plads and is know to be involved with one of the two groups fighting the gang war in Nørrebro.