News
Danish warship built by North Korean forced labour
---
This article is more than 6 years old.
Taxpayer funds used to build the Lauge Koch may have ended up in regime's nuclear and missile programs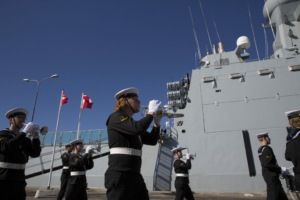 Barely a week after the world condemned North Korea for its continuing nuclear testing attempts, a new DR documentary has revealed that Denmark may have indirectly helped provide finance to North Korea's regime.
The documentary 'Krigsskibets Hemmelighed' ('The Warship's Secret') has found that the Danish Navy's newest warship, the Lauge Koch, was built in Poland using North Korean forced labour workers – an accusation that has been substantiated by contracts, receipts and eye witnesses.
"North Korean workers abroad are an important source of hard currency used for developing the North Korean nuclear and missile programs," Jai-chul Choi, the South Korean ambassador to Denmark, said in the DR documentary.
"If Danish taxpayer funds have been used for the nuclear and missile programs, it would be catastrophic."
READ MORE: North Korean ambassador summoned in wake of nuclear test
Outraged opposition
The Lauge Koch, which has cost the Danish state over half a billion kroner and will be unveiled in December, was partially outsourced by the Danish ship builder Karstsensens  Skibsværft to Crist, Poland, where the labour is significantly cheaper.
Several parties in Denmark – including Socialdemokratiet, Enhedslisten and Radikale – have demanded an explanation by the defence minister, Claus Hjort Frederiksen.
"We need to get to the bottom of this, especially to prevent it from happening again in the future," Henrik Dam Kristensen, Socialdemokratiet's spokesperson on defence issues, told DR Nyheder.
"It's difficult to find words to describe it; I would call it grotesque."
The documentary, 'Krigsskibets Hemmelighed', will be showed on DR2 on September 26 at 20:00.