News
Polish shipyard: No North Koreans worked on Danish ship
---
This article is more than 6 years old.
Danish shipyard and Defence maintain there is no evidence linking the vessel to the labourers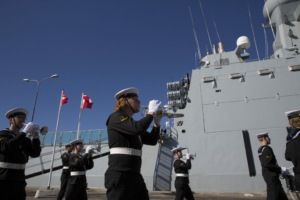 The Polish shipyard Crist, which has played a role in the construction of the new Danish Navy ship Lauge Koch, has denied that any North Korean labour was used in building the ship.
Crist has admitted that a former distributor has used North Korean labourers in the past, but not on the Danish ship.
"With reference to the executed contract for building and delivery partly outfitted hull of project NB 428 [Lauge Koch], we hereby confirm that no North Korean workers have been employed on this project," Crist wrote in a letter to the Danish shipyard Karstensens Skibsværft in 2016, which outsourced the work to them.
However, the statement is refuted by a number of contracts and wage payment slips from 2016 that the Norwegian media agency Teknisk Ugeblad used to document how Armex hired a group of North Korean labourers to work on the hulls of Lauge Koch and nine Norwegian ships.
In a letter on September 20, Crist admitted that its distributor Armex used North Korean labourers, but co-operation between them ceased in early 2016.
READ MORE: Danish warship built by North Korean forced labour
Damning documentary
The allegations surfaced yesterday ahead of the airing of the DR documentary 'Krigsskibets Hemmelighed' ('The Warship's Secret'), which uses contracts, receipts and eye witnesses to substantiate the claim.
In the documentary, six anonymous shipyard workers confirm the presence of North Korea workers on the Danish ship.
However, Karstensens Skibsværft and the Danish Defence Ministry – based on supposed daily visits to the Polish shipyard during construction – continue to maintain there is no proof of evidence connecting the North Korean labourers to the Danish ship.