General
Smørrebrød: from medieval breadwinner to Danish staple
---
This article is more than 6 years old.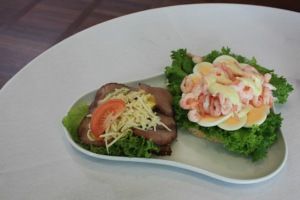 Smørrebrød began in the Medieval Ages as a high-energy meal to fuel labourers through long days on the job. They threw leftovers on a slab of bread, which was originally only used as a placeholder and immediately discarded after the toppings were consumed.
Attentive eaters eventually realised how tasteful the bread became after absorbing the contents' flavour. And the modern-day smørrebrød was invented when 19th century workers learned to utilise the bread and butter essentials to placate their appetites.
Spreading the joy
Overtime, smørrebrød evolved into a universally popular cuisine. After the famous Davidsen family first opened their wine bar in 1888, they decided to spice things up by adding smørrebrød to the menu.
In turn, their granddaughter Ida Davidsen introduced the dish overseas, signalling the start of an international success story.
Since then professional chefs and regular foodies around the globe have tuned into the smørrebrød sensation.
Functional and flavourful
The quintessential starter is a hearty piece of untoasted rye, followed by a buttery layer to hold the toppings together and an optional garnish finish. Fish, meat, vegetables and egg or remoulade dressings are standard choices.
Sloganeers capitalised on 'smørrebrød-simplicity' to bring it to the kitchen table. And they coined smørrebrød 'edgy-elegance' to market it to upscale restaurants.
Today, smørrebrød is enjoyed as a seasonal appetiser and frequents the Danish Christmas and Easter menu.It provides delectable tastes and unforgettable cultural experiences.
While in Copenhagen plan a visit to any of the listed spots to embrace this treasured Scandinavian tradition:
Kanal Kafeen
Frederiksholms Kanal 18, Cph K; open Mon-Fri 11:30-17:00, Sat 11:30-15:00; 3311 5770, kanal@cafeer.dk; kanalcafeen.dk
The Channel Café was once completely underwater, but its submerged history just adds to its maritime charm. Stop by to indulge in one of their smørrebrød and discover the vivid story behind its setting on the canal. It's an excellent option for your next Christmas party.
Café Petersborg
Bredgade 76, Cph K; open Mon-Fri 11:45-16:00 & 17:00-21:00, Sat 11:45-16:00; 3312 5016, info@cafe-petersborg.dk; cafe-petersborg.dk
Book a table at one of Copenhagen's oldest restaurants and peruse their extensive smørrebrød lunch menu. Make an event out of it and watch a football game, or time it right to dine here on St Martin's Day,
November 10.
Restaurant and Café Nytorv
Nytorv 15, Cph K; open Mon-Sun 09:00-23:00; 3311 7706, kontakt@nytor.dk
Once a dodgy dive, Café Nytorv is now the ideal hygge hangout. They offer takeaway options, as well as bookings for companies with a capacity for 50 guests. Discover the smørrebrød beat here in the heart of the city.
Husmann Vinstue
Larsbjørnsstræde 2 Cph K; open Mon-Fri 11:30-18:00, Sat 12:00-17:00; 3311 5886, 1888@husmannsvinstue.dk; husmannsvinstue.dk
Tradition and taste come together at this cosy venue near Norreport Station. Party reservations welcome. Enjoy a classic smørrebrød at Husmann Vinstue.
Kobenhavner Cafeen
Badstuestræde 10, Cph K; open daily 11:30-22:00, 3332 8081, booking@kobenhavnercafeen.dk; københavnercafeen.dk
This classy venue has a welcoming charm. Try it the Danish way and rewind with a cold beer and schnapps while relishing Kobenhavner Cafeen's smørrebrød delights.
Meyers Madhaus
Nørrebrogade 52C, Cph N; open 09:00-16:00; 3536 3837, madhus@lmfood.dk; meyersmad.dk/madhus
Or maybe you'd like to learn how to make smørrebrød yourself from none other than the master of Danish cooking himself, Claus Meyer, or at least one of his chefs! Browse the site for more information and contact Meyers Madhus to set up a smørrebrød cook-off!