News
Immigration Ministry hit by cyber-attack
---
This article is more than 6 years old.
Attack comes days after minister Inger Støjberg posts Mohammed Cartoon tribute on Facebook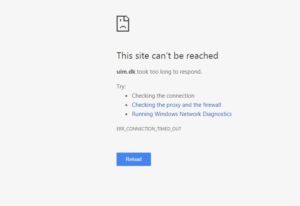 IT technicians are continuing to work on the Immigration Ministry website, which has been down since Wednesday following a cyber-attack.
The attack comes just days after the immigration minister, Inger Støjberg, posted an image on Facebook showing she used one of the highly contentious Mohammed Cartoon drawings as her background image on her iPad.
The Foreign Ministry website was also attacked yesterday and was also down for a short period of time.
READ MORE: If they don't like my rules, let them eat cake, says Danish integration minister
Rekindling the fire?
Yeni Akit, a conservative Islamic media outlet from Turkey, contended that the group Aslan Neferler Tim was behind the attack and that it was in response to Støjberg's Facebook post.
"The Mohammed drawing with Kurt Westergaard leading the way has helped define Denmark as the free society we are. They show we are a free country where options are broken and you can say what you want and criticise who you want," Støjberg wrote in her Facebook post on Tuesday morning.
"I have Kurt Westergaard's famous drawing as my background image on my iPad. I have it there because I love Denmark. I love the foundation of freedom rights that generations before us have laid out and which our lovely country is founded on … Honestly, I think we should be proud of the Mohammed drawings!"
Støjberg's decision to post the image generated quite some action on her Facebook and the post currently has over 20,000 reactions, over 7,000 comments and nearly 2,000 shares.