News
Parking fines – a goldmine for the municipality?
---
This article is more than 6 years old.
Municipalities round Denmark are deriving increasing amounts of revenue from parking schemes and fines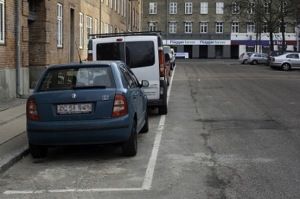 As all city-dwelling motorists know, the price of parking has gone up in recent years – and that includes parking fines.
A survey carried out by the Danish car owners' organisation FDM shows that these two things have risen by 41 percent over the last 10 years, reports Jyllands-Posten.
FDM's legal adviser, Dennis Lange, contends that especially in big cities more people are driven to illegal parking because the lack of parking spaces leave them no choice.
"Once they [the municipalities] start to receive this kind of revenue, then they quickly become used to getting these millions of kroner in the municipal coffers," added Lange.
Should listen more to car owners
He also feels that the municipalities are not sufficiently receptive to the need for parking spaces and, in fact, they try to restrict them by more than necessary so that residents and visitors are unable to park where they want to.
In 2016, there were 43 municipalities with controlled parking schemes and 22 with paid parking schemes. The municipality is responsible for collecting the payments and fines, but they have to hand over half the amount to the state.
Not guilty, says KL
However, the municipality can deduct a portion of the amount that they get from parking payments and this is supposed to be invested in parking spaces and car parks. In 2008, the money collected amounted to 649.7 million kroner. This year, it is expected to rise to 916.3 million.
Kommunernes Landsforening insists that there is no sinister money-making scheme at work. "Most municipalities use the money to regulate traffic – not to line the municipal coffers," said the chairperson of KL's technical and environmental section, Kolding Mayor Jørn Pedersen.