News
Turkish hackers want apology for Støjberg's Mohammed Cartoon post
---
This article is more than 6 years old.
Aslan Neferler Tim threatens to launch new attacks if demands are not met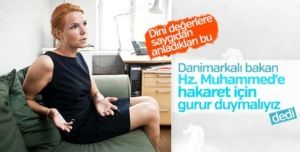 Turkish hacker group Aslan Neferler Tim, which took responsibility for the cyber-attack that shut down the Immigration Ministry's website this week, has demanded a governmental apology for immigration minister Inger Støjberg's decision to post an image of one of the Mohammed Cartoons on Facebook.
The hackers said in a Facebook post that they would launch new attacks unless an apology is made for the "violations of the prophet".
"If an apology is not forthcoming, we will attack energy and banking systems. Currently, we are in the process of hitting Denmark's National Bank," they wrote.
READ MORE: Immigration Ministry hit by cyber-attack
Dabbling in Dutch 
However, according to Berlingske newspaper, Nationalbanken indicated it had seen no indication that an attack was underway.
Aslan Neferler Tim has reportedly been behind similar attacks elsewhere. Earlier this year, computers belonging to the Dutch authorities were hacked during a March 15 election, presumably in response to the Dutch refusing Turkish diplomats entry into the country.