News
Between breaths: Probing under the surface of the underwater band
---
This article is more than 6 years old.
One year on from the premiere of 'AquaSonic', the underwater band Between Music remain in high demand across the world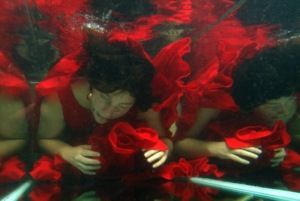 What is it about Danish musicians and water? Either they're naming themselves after it (Aqua) or they can't wait to get away from it (Oh Land). And judging by MØ's contribution to the mega-hit 'Cold Water', they don't even like it that much.
And now Danish group Between Music are raising the ante somewhat by submerging themselves into a role first suggested in the Beatles track 'Yellow Submarine': the world's first underwater band!
For several years now, Between Music – led by Robert Karlsson and his wife Laila Skovmand with the support of Morten Poulsen, Dea Marie Kjeldsen and Nanna Bech – have been touring the world, and their most recent performance, 'AquaSonic' (aquasonic.dk), has garnered great acclaim.
Ahead of their prestigious performance at the Sydney Festival in Australia this coming January, CPH POST caught up with the avant-garde quintet to find out more.
The band's propulsion
Between Music is the result of eleven years of experimentation and hard work, and according to its co-founder Karlsson, there's no disputing who has been the driving force – the propulsion if you will – behind the band's success.
Skovmand, the artistic director of the band, had always wanted to experiment with her voice in different ways and come up with something unique.
"While exploring different ways of experimenting with my voice, it occurred to me one day to immerse my mouth underwater and try to sing. I was completely intrigued by the tryout," she explained.
The next step was jumping into a swimming pool and trying to play different instruments. However, the initial trials did not yield the desired results. It was only in 2004 when Skovmand took her experiment to the Filiorum artistic laboratory and tried playing some instruments underwater that years of dedication started to bear fruit.
The duo had to consult a number of specialists in their respective fields to make things work properly. Different scientists, engineers, instrument makers and deep-sea divers were taken on board to develop highly peculiar musical instruments that can be played underwater. These included hydraulophones, violins, electromagnetic harps, chimes and percussion instruments.
"It took an enormous amount of patience and commitment to get the instruments working," continued Skovmand.
"Something would work at one point, but wouldn't work at another. There was a lot of research and hard work involved in creating special instruments that would produce sounds in water. Moreover, we also came up with a distinctive vocal technique for underwater singing."
Practice makes perfect
Difficulties still persist today, however. After all, the performers are all underwater, expending copious amounts of energy and puff. According to Karlsson, the general manager of the band, it is far from easy and requires a lot of practice to attain perfection.
"We come up to breathe between the phrases. Sometimes it is carefully planned into the composition, other times it's more random. But it has demanded a lot of training and practice from yoga teachers and divers," he said.
The hard work is paying off if the fan reaction is anything to go by.
"It was a journey comprising many ups and downs before we finally realised our project. And I think the audience can actually feel the enormous amount of hard work that we have put into our craft," continued Karlsson.
"Wherever we have performed, we can see how the performance has deeply touched the audience. And that is of course also a big motivation for us."
A melting pot for art
The five musicians, completely submerged in aquariums, will in January perform 'AquaSonic' at the Sydney Festival, a well-known international event that has been a melting point for the best in national and international art since 1977.
The band are driven by an endless curiosity and desire to push the boundaries of the human experience: artistically, technically and scientifically. Their work, they explain, will explore the driving forces, mechanisms and mysteries of human nature, through a distinctive sound and rich imagery – often with surreal undertones.
"We are extremely excited to perform at the Sydney Festival. It will be great to see how people react to our performance," enthused Karlsson.
By that time it will be 18 months since the world premiere of 'AquaSonic' at the Operadagen Festival in Rotterdam – a huge success if the reaction was anything to go by, as the band have since received requests to perform in many countries across the world including Mexico, Russia, Turkey, Scotland, Dominican Republic, Lebanon, the US and, of course, Australia.
"The experience of performing in Rotterdam was amazing. Our fantastic team were at their best, pouring all their passion and devotion into the act," said Karlsson.
"It was quite an intense experience and we hope to perform in Sydney in a similar way."