News
Dong Energy changes its name to Ørsted
---
This article is more than 6 years old.
Sustainable branding does not include name links to its dirty past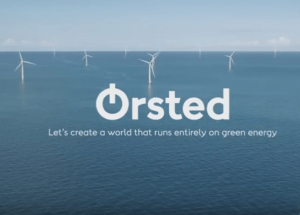 The days of people visiting Denmark and having a right chuckle about the name of the Danish energy company Dong Energy are coming to an end. The reason, however, is no joke.
In a bid to shed the fossil-fuelled skin of its past, Dong Energy announced this morning that it would change its name to Ørsted – a name taken from the Danish scientist Hans Christian Ørsted (1777-1851), who was the brain behind a number of scientific discoveries, including the discovery of electromagnetism in 1820.
"DONG was originally short for Danish Oil and Natural Gas. With our profound strategic transformation and the divestment of our upstream oil and gas business, this is no longer who we are. Therefore, now is the right time to change our name," said Thomas Thune Andersen, the company's chairman.
"Our vision is a world that runs entirely on green energy. Climate change is one of the most serious challenges facing the world today, and to avoid causing serious harm to the global ecosystems, we need to fundamentally change the way we power the world by switching from black to green energy."
READ MORE: DONG Energy sells off oil and gas assets
Divesting fossil fuels
The energy giant has taken great strides to embrace a more sustainable future recently, underlined by its decision earlier this year to divest its oil and gas assets for 8.7 billion kroner to the British chemical firm Ineos.
The company's name transition will naturally include a new logo, as well as a new brand identity that is "simple, functional and supportive of a sustainable way of life".
"2017 will be remembered as the year when offshore wind became cheaper than black energy, as demonstrated by the recent tenders for offshore wind in Germany and the UK," said Ørsted chief executive Henrik Poulsen.
"It has never been more clear that it is possible to create a world that runs entirely on green energy. The time is now right for us to change our name to demonstrate we want to help create such a world."
See more about the name change in the video below.