Things to do
October Art: The best pics on the planet
---
This article is more than 6 years old.
Seven of the best exhibitions in town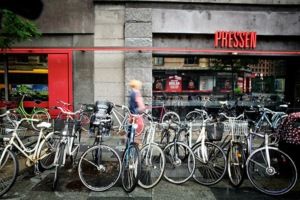 World Press Photos
Sep 22-Oct 15; JP/Politikens Hus, Rådhuspladsen 37, Cph V; open daily 13:00-18:00, Wed-Fri until 21:00; worldpressphoto.org
The World Press Photo Foundation's display of the world's best press pictures preserves the memory of the past by capturing both major and minor events in addition to the rawness of humanity: from its beauty and diversity to its injustices and suffering.
By looking at these pictures, one is able to see and feel the power and strangeness of life across the globe as well as look at the exact moments in time that made history and continue to shape our world.
Come see the world as it happened and history in the making.
Bill Viola
Aug 29-Nov 26; Copenhagen Contemporary, Trangravsvej 10-12, Cph K; cphco.org
In his video installation Inverted Birth, US artist Bill Viola explores the universal question of what it means to be human.
Viola is an experimental visionary in the field of video art and is best known for his works done on a massive scale in slow-motion that utilise immersive visual effects.
In this five-metre visual masterpiece, Viola's classic mesmerising visuals are employed to display a reversal of life itself through projections of water, blood, and the bare form, revealing the full range of human emotion and experience while leaving interpretations of these topics open-ended to its viewers. (SJ)
Nude
ongoing, ends Oct 28; V1, Flæsketorvet 69, Cph V; v1gallery.com
The bare, the naked, the beautiful and the ugly are all depicted and celebrated in this group exhibition. The vulnerabilities and traditionally offensive aspects of our naked form are celebrated through different artistic mediums.
What does art do at hospitals?
ongoing, ends April 1; Køs Museum, Nørregade 29, Køge; koes.dk
Hospitals are not often associated with art, but in Denmark these institutions are undergoing a creative revolution. This unique exhibition examines the role that art plays in crafting hospitals as places of comfort and healing.
Appreciate the Art
ongoing, ends Dec 22; Samtidskunst, Stændertorvet 3D, Roskilde; samtidskunst.dk
What is the value of art? For the self, for society, for the economy? And what is its role in our larger culture? Appreciate the Art seeks to answer how artistic significance compares to its monetary value.
Ovartaci & Galskabens Kunst
ongoing, ends Jan 14; Kunsthal Charlottenborg, Nyhavn 2, Cph K; kunsthalcharlottenborg.dk
The world-renowned art outsiders Ovartaci blend various art forms to depict a surrealist fantasy world where humans and animals, along with the natural and industrial, all blur together.
New Noveta: It's here
ongoing, ends Oct 28; YEARS, Tagensvej 58, Cph N; years.dk
London duo Keira Fox and Ellen Freed bring their performative installation to Copenhagen. Audio will be provided by Vindicatrix and costumes by HYDRA for a simulation that explores human emotion and engages with all of the senses.