Things to do
October Events: Finding the costume of your past life
---
This article is more than 6 years old.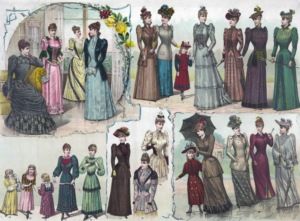 Carls Fair
Oct 7-8, 10:00-17:00; Stødpudelager, Pasteurvej 28, Cph Valby; 50kr, under-15s: free adm
Rikke and Jean invite you to find the costume of your past life at this vintage clothing market.
The historic Stødpudelager building at Carlsberg is the setting – who knows, maybe you'll find attire suitable for its grand opening in 1847?
Sustainability is the theme this year, but from a community angle, and the fair offers far more than clothes. Homeware, furniture and second-hand furnishing and fittings will all feature heavily, along with experts offering advice on recycling and design.
So take your home back in time to match your dress!
Atlas X Absalon Talks
Oct 4, 20:00-22:00; Absalon, Sønder Blvd 23, Cph V; 50kr; absaloncph.dk
Enlighten yourself with group drinks and a discussion concerning the sociological and philosophical aspects of the economy in Absalon's hip shared dining digs, which for many is becoming their second home. (NM)
Chris Rock
Oct 5, 20:00; Royal Arena, Hannemanns Allé 18, Cph S; 400-600kr
Veteran comic and filmstar Chris Rock, who has hosted the Oscars twice, is coming to Copenhagen. Take advantage of the opportunity to see one of the best standup comedians in the world. (SBH)
Danish Symphony Orchestra
Oct 5, 7, 12, 26 & 31; Koncerthuset, Ørestads Blvd 13, Cph S; 85-550kr; drkoncerthuset.dk
Enjoy the works of Dvorak, Tchaikovsky and Temirkanov at a spectacular performance by the Danish Symphony Orchestra. Feel inspired by the musicality and passion that oozes from the orchestra. (EB)
Globe Quiz Night
Oct 5 & 19, 19:30; The Globe, Nørregade 43, Cph K; 30kr per person
Put your knowledge to the test at the Globe Irish Pub with up to four of your brainiest friends. From movie trivia to history, all subjects are fair game in the competition for the top prize of 1,000 kroner. (NM)
Lund Botanical Garden Tour
Oct 6, 8:30-10:30; Ekska Huset, Sankt Petri Kyrkogata 4, Lund; internationalcitizenhub.com
Experience one of Sweden's most striking collections of plant species with a free English-language guided tour of the Lund Botanical Gardens. And while you're there, explore the historic Swedish city just north of Malmö. (NM)
Masterchef Madness Cook-Off
Oct 6, 21:30-23:30; Timm Vladimir's Køkken, Skolegade 19, Valby
Grab a cocktail and watch Masterchef competitors Umut Sakarya and Casper Stuhr Sobczyk go head-to-head in a deliciously Danish culinary showdown. And then help them clean the plates? (NM)
Creative Market
Oct 7, 13:00; Ungdomhuset, Dortheavej 61, Cph NV; free entry; dukop.dk
Find inspiration and your next handicrafts at Creative Market Nordvest, with screen prints, illustrations, jewellery and more on display, with artists present for a lively chat. (NM)
Ready Player 3
Oct 11, 20:00-23:00; DR Koncerthuset, Ørestads Blvd 15, Cph S; 345kr; drkoncerthuset.dk
Watch three of YouTube's favourite gamers, JackSepticEye and the Game Grumps, game, banter, and take part in Q&As with the audience. With 20 million worldwide subscribers, expect a full house! (NM)
CPH Phil October Series
Oct 12, 19, 27 & 29; Conservatory Concert Hall; 50-420kr; copenhagenphil.dk
There is no experience that matches going to a live orchestra performance. The Copenhagen Phil has a delightful October line-up including works by Mendelssohn, Schubert, Bach and more! (EB)