Things to do
At Cinemas: Franchise given 32 more years to get its vision right
---
This article is more than 6 years old.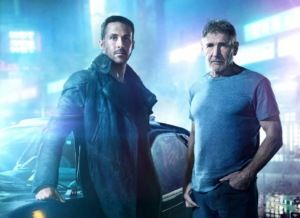 Let's get this straight. The 1982 film Blade Runner was set in 2019. Hailed as a masterpiece, we marvelled at its vision of the future. Hardly any of it became a reality. Replicants, flying cars, interplanetary job opportunities … although give "attack ships on fire off the shoulder of Orion" a chance – it could be another country Trump hasn't invented yet.
Sequel, but to which one?
At least they've got the ageing of Harrison Ford right, or have they? Blade Runner 2049 (83 on Metacritic; released on Oct 5) is set 30 years after the events of the first film, which was made 35 years ago. So far so good, but unfortunately Ford looked 30 when he was actually 40, but has since caught up courtesy of some near-fatal air crashes. So he still looks too old for the part.
In the sequel, the main character (Ryan Gosling) tracks down Ford's character Deckard because he has some questions for him, like which film is this is a continuation of: the original US theatrical release, the international release, the director's cut, the final cut or one of the other four prints in circulation.
If it's the US theatrical cut, then maybe he could ask why Deckard was seen fleeing to the Overlook Hotel in the closing credits. Did he get himself a job as the new caretaker, and was he going to hack through Sean Young's bathroom door or, given that it's set in 2019, shoot her through the wall and claim he thought she was a burglar? And to think they called him the Blade Runner!
Still, it's encouraging to see that one of cinema's safest pair of scifi hands, Dennis Villeneuve (Arrival), is directing, and that besides Ford only one of the original cast is returning: Edward James Olmos as Deckard's mysterious colleague Gaff. Gimmicky cameos are well-intended, but can often ruin returns to long-lost movie universes.
Let the bros crow a bit
Also too old for a part, but showing promise beyond his years behind the camera is Benny Safdie, who together with elder brother Josh and older onscreen brother Robert Pattinson (Twilight) bring us this issue's pick, Palme d'Or nominee Good Time (80; Oct 12).
A small-time LA criminal (an unrecognisable Pattinson) has just one night to raise the necessary bail money to haul his kid brother out of a depraved jail – the result is a frenetic odyssey through the city's underworld.
While the reviews are mixed – some critics really hate it – they're unanimous in their praise for the English actor's standout performance and the film's killer soundtrack.
Maybe it's a 'good time' to seek out the Safdie brothers' previous films.
No-one parties like Spall
The same isn't true of Sally Potter, the director of The Party (72; Oct 12), the best British film about a social gathering at a private home since Secrets and Lies, as this chamber dramedy is a departure from the seriously demanding fare of her early career.
Mike Leigh's film also starred Timothy Spall, and here he has risen in class a bit to play the husband of a politician (Kristin Scott Thomas) celebrating her appointment as a shadow minister. This time it's his turn to share a few revelatory secrets.
A strong UK/US cast, including Patricia Clarkson and Cillian Murphy, embrace a tight script that is humourous, dramatic and, above all, great fun.
Snow can be slippery
A good serial killer film can be fun, but they're a rare breed. With the exception of Män som hatar kvinnor, it's a struggle to name a decent one made this century.
Fortunately for The Snowman (Not Released Worldwide; released on Oct 12), it also has a strong Swedish ally in director Tomas Alfredson. This is his first film since Tinker Tailor Soldier Spy six years ago, and lead actor Michael Fassbender has the necessary gravitas to make us care he can stop the killings before someone's head arrives in a box.
It does look a bit silly though, and we wonder whether we've already identified the murderer from checking out the cast-list on IMDB.
You'd also be forgiven for pre-judging a Jackie Chan vehicle, and the premise of The Foreigner (NRW; Oct 12) does little to dissuade you. Chan plays a Chinese businessman with a past whose daughter is killed in an act of terror – didn't Arnie star in an almost identical film? But in this case, London's Chinatown provides the setting and the British government an intriguing sub-plot.
Like Alfredson, Kiwi director Martin Campbell hasn't made a film for six years, and while his career has stuttered since Casino Royale (2006), he demonstrated with the 1985 UK miniseries Edge of Darkness that he's more than capable of delivering the goods on British soil.
I am not your lingo
Elsewhere, there's a couple of releases that lists English as a language, but you'll probably need a good grasp of Danish to appreciate them.
Danish documentary Michelin Stars: Tales from the Kitchen (NRW; Oct 4) sounds like an overlong episode of MasterChef, and Cairo-based thriller The Nile Hinton Incident (69; Oct 12) continues this country's inexplicable love affair with average Lebanese actor Fares Fares.
A Modern Man (NRW; Oct 4), on the other hand, is a Danish documentary made entirely in English – a sensible direction to go in, you'd imagine. But seven months after its premiere at CPH:DOX there was presumably no rush to release this film about a 31-year-old male violinist who also works as a model. It sounds fascinating.
Will the original English-language version of My Little Pony: The Movie (NRW; Oct 5) be screened? The likelihood tends to decrease depending on how infantile the cartoon is. So no is the probable answer.
Finally, I am not your Negro (95; released on Sep 28) was released last month, but also shown on Swedish television (see cphpost.dk for our preview). Like Blade Runner, its story feels like a lifetime ago, but its foretelling of the future was a little more accurate.