News
Lego and Novo Nordisk among most desirable companies to work for in Denmark
---
This article is more than 6 years old.
Work/life balance most important to students at university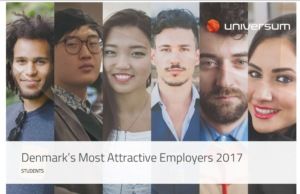 According to a new report, Lego and Novo Nordisk are among the most preferred companies that university students in Denmark hope to land a job with  following graduation.
The report 'Denmark's Most Attractive Employers 2017' (downloadable here in English) – produced by one of the global leaders in employer branding, Universum – is based on the surveying of close to 15,000 students at eight universities studying across 111 disciplines.
The report found that within the realm of business, the students found Lego to be the most attractive workplace, followed by AP Møller – Maersk, Novo Nordisk, McKinsey & Company, Deloitte and Carlsberg. Other notables included Vestas (14), Pandora (16), the Foreign Ministry (18) and SAS (22).
READ MORE: Future of Danish workforce hinges on 70,000 foreigners
Work/life balance key
Within engineering/natural sciences, Novo Nordisk ranked top, followed by Lego, Rambøll, Novozymes and Google. Google also finished top in the IT category, ahead of the likes of Microsoft, Lego, Blizzard and Apple. Finally, within law, the top spot was occupied by the Justice Ministry, followed by Kromann Reumert.
The students  indicated that their top career aspiration was to have a good work/life balance, with 50 percent indicating as such. Some 44 percent said they wanted to be dedicated to a cause or to feel they were serving the greater good, and 42 percent said they wanted to be competitively and intellectually challenged.
The most preferred industry was the management and strategy consulting sector with 23 percent, followed by  educational and scientific institutions with 20 percent, and media and advertising with 15 percent.