News
Culture News in Brief: Mikkeller produces Twin Peaks beers for David Lynch's festival
---
This article is more than 6 years old.
In other news, Björk has accused a Danish film director, who is widely believed to be Lars von Trier, of sexually harassing her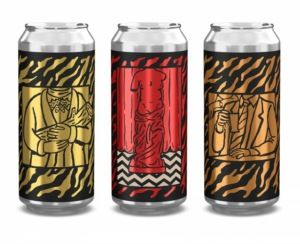 The New York division of Danish microbrewery Mikkeller has produced three special Twin Peaks beers in collaboration with the show's co-creator and director David Lynch.
Lynch was involved in all aspects of the production process – from tasting and formulation to choosing the names and packaging, which uses illustrations based on "iconic scenes" from the series.
The beers are called 'Log Lady Lager', 'Red Room Ale' and 'Damn Good Coffee Stout', and were officially released at Lynch's Festival of Disruption in Los Angeles over the weekend.
"The Mikkeller NYC team loves Twin Peaks and serendipitously knows some great people who work with David Lynch.  Once the conversation began, the ideas and collaboration flourished organically," explained Jim Raras, the NY general manager, to mikkeller.dk.
As well as in LA, the beers are also being sold at selected outlets in San Francisco, Oakland and San Diego.
---
Von Trier's producer rejects Björk's sexual harassment claim
Following on from the revelations that film producer Harvey Weinstein has been sexually assaulting women within the industry for decades, Icelandic singer Björk, 51, has taken to Facebook to claim she was sexually harassed by a Danish director. It is widely believed she is referring to Lars von Trier as he is the only Danish director she has worked with – on 'Dancer in the Dark' in 2000. "It seemed to me that it is taken for granted that a director can touch and harass his actresses when it suits him and that the film company allows it," wrote Björk. However, Von Trier's long-time producer, Peter Aalbæk Jensen from Zentropa, told Jyllands-Posten he remembered it differently. "That woman was stronger than both Lars von Trier and me and our company put together," he said. "If anything we were the victims … so I'm a little gobsmacked."
Denmark's oldest history book on display
The oldest surviving Danish history book is currently being displayed at the Møntergården museum in Odense. However, this is not a first edition copy of Ælnoths Krønike, an account of the reign of King Knud the Holy (1080-1086) penned by the English monk Ælnoth in the Funen city in around 1100. Lent by a library in Belgium, the copy dates back to the late 12th century. Lars Boje Mortensen of the University of Southern Denmark told DR the book is like "an expensive Mercedes" and was worth as much as 3 million kroner.
Tight-lipped MØ discusses album … a bit
Danish singer MØ has said her long-awaited follow-up to her 2014 debut album 'No Mythologies to Follow' will "reflect her current mission to live in the moment" in an interview with out.com. Previously tight-lipped on the contents of the album, she added: "I'm always striving to be free through my music – to be without worries – and to become more connected with myself."