News
Stolen tourist bus found north of Copenhagen
---
This article is more than 6 years old.
Serbian national arrested for being mastermind of theft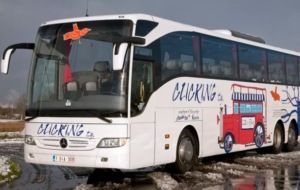 The Belgian tourist bus that went missing in Copenhagen in August has finally been located north of the capital near Helsingør.
A 60-year-old Serbian national has been arrested and charged with stealing the bus, according to the department of organised crime at the Copenhagen Police, and he will provisionally be held on remand for 15 days.
READ MORE: Police call for public to help find missing tourist bus
Man hours galore
The Serbian suspect was arrested at his home in Valby and is believed to be responsible for stealing a number of buses, which are then shifted abroad. The police are looking for several other perpetrators.
The police have spent a significant number of hours searching for the bus since it mysteriously vanished from Ingerslevsgade in Vesterbro – particularly given the use of heavy vehicles in terror attacks in Europe in recent years.
Nevertheless, the police were confident there were no terror links to the theft at the time of the bus's disappearance.