Things to do
At Cinemas: You saw what? Have we forgotten what we're escaping from?
---
This article is more than 6 years old.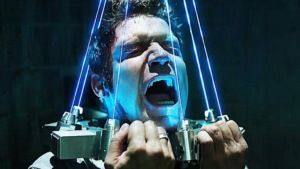 The macabre murder of a young journalist, the slaughter of close to 60 country music fans doing what they love, the infantile Twitter exchanges of two leaders leading the world to the brink of nuclear war … it's no surprise so many of us seek escapism from this world in the wilds and weirdness of Westeros and Westworld.
What is surprising – given the horror of being chopped up or down by what is increasingly becoming a middle-aged, white, male psychopath – is our insatiable appetite for video nasties, particularly as the vast majority are clichéd, crass and characterless, featuring a villain who is Ted Bundy, but preferably British.
It's now reached a point when Friday the 13th is no longer an unlucky day, but a cinematic event to sell extra popcorn. As if Halloween wasn't enough this month …
So sore we're flatlining
Will Saw 8: Jigsaw (Not Released Worldwide; out on Nov 2) give us a sense of completion like we're finishing a puzzle? It's not likely given the revenue future sequels will bring.
It's the writers I feel sorry for. They can't enter a room without viewing it as a theatre of death. Their baby's nursery might look innocent enough, but in seconds they've envisaged Jigsaw throttling the nanny in the handles of the Moses basket after chopping her toes off on the Scalextric.
While we can only predict Saw 8 will be another case of what you saw last summer, we know the remake of Flatliners (27 on Metacritic; Nov 2) is flat on its face.
Last year Diego Luna was dying in a galaxy far, far away, this year he's dying in a universal flop, while Ellen Page and James Norton should know better – the latter can give up on becoming James Bond right now. Granted, the original was no oil painting, but it's La Gioconda compared to this mess.
A cut above the slashers
The stills from Lady Macbeth (76; Oct 26) wouldn't look out of place in La Louvre. Busy scooping prizes the world over, first-time director and art school graduate William Oldroyd, 37, is reaping the plaudits.
With a background in theatre and opera, Oldroyd is well suited to this resetting of Lady Macbeth of Mtsensk – a 19th century Russian novel by Nikolai Leskov, which also ended up inspiring an opera by Shostakovich – and in his leading lady, Florence Pugh, he has a formidable ally.
Colin Farrell has found his Scorsese in Greek director Yorgos Lanthimos (Dogtooth), and the result is some of his most impressive work to date. Their last venture, The Lobster, was the sleeper hit of 2015, and now The Killing of a Secret Deer (84; Nov 9) reunites them once more – in particularly creepy fashion.
The source of the disquiet is 25-year-old Irish actor Barry Keoghan, who in a number of small roles in big films like '71 and Dunkirk has made a lasting impression. He has a rare combination of choir boy vulnerability and dark alley menace. This shot at the big-time is well deserved.
Concluding the horror is a work of unpromising animation, The Little Vampire (NRW; Oct 26), and Happy Death Day (57; Oct 19), a rip-off of Groundhog Day in which the protagonist keeps on reliving the day of her murder. Nevertheless, it's a done-to-death formula that audiences with a short attention span tend to enjoy – an experience more akin to watching lots of short episodes rather than a complete work.
We need disaster films?
Given the likelihood climate change will transform our world forever, can the same be asked of audiences who enjoy a good disaster film? It's hardly escapism is it! Try showing Geostorm (NRW; Oct 19) in San Juan and see how well it goes down, although they might like the ludicrous casting of Cuban-born Andy Garcia as US president.
Judging by the trailer for this film about futuristic weather control gone wrong, it's all glib one-liners. We sense a genre crisis, so it's no surprise to learn principal photography began in October 2014 and that rewrites and reshoots followed poor test screenings.
In contrast, barely a year has passed since the release of Bad Moms, but couldn't they have waited a month more with A Bad Mom's Christmas (NRW; Nov 9), an unwelcome early Christmas present.
Blanched by the offer
Try every four months if you think a year's overdoing it. Thor: Ragnarok (NRW; Oct 26) is the third Marvel Cinematic Universe release this year, following an average of two a year going back to 2012. In what is beginning to resemble a pyramid sales scheme, three films are planned for both 2018 and 19.
This time around Thor has lost his hammer (mojo right?) and there's a sexy new goddess (Cate Blanchett – proof you can get anyone with the big bucks), but Thor's also immortal and so is his family.
Queen Victoria was treated like a deity – by everyone bar her servants. Victoria & Abdul (57; Nov 2) tells the story of how an Indian manservant became a trusted confidant. Judi Dench is reprising the role she played in Mrs Brown in 1997 – an account of an earlier monarch/manservant relationship that climaxed in 1883, four years before she met Abdul.
It's interesting to note that Victoria's family did their best to omit the relationship from the history books and that they would have been successful had it not been for a chance discovery in 2003.
Keeping it real, malaria
Elsewhere, PattiCake$ (67; Nov 2) is a female 8 Mile of sorts, but with a likeable lead who keeps it real about not being a cover girl. Amazon Adventure: A True Story of Scientific Discovery (6.4 on IMDB; Oct 11) got a late release last week – quite the achievement for a film that looks like it was made by the Hallmark Channel.
Staying in the developing world, migration is the subject of Human Flow (77; Nov 9) and it has good reviews. Less certain is the quality of Untitled (7.4 on IMDB; Nov 9), one filmmaker's attempt to finish the film Michael Glawogger was making when he died of malaria in 2014.
Yes, the unspeakable horror of mankind's biggest ever killer, palatable to audiences in the safety of their multiplexes munching popcorn.