News
New heightened US security regulations could cause airport delays
---
This article is more than 6 years old.
From today onwards, if you are flying to the United States, you should allow extra travelling time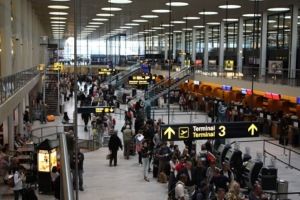 Airlines are going to have to implement stricter security controls on passengers destined for the US involving a number of documents that have to be checked. The new regulations include a short interview, more checks and extra screening, DR Nyheder reports.
"Under the new regulations, if our personnel don't get satisfactory answers to their questions, in the worst case, a traveller could be denied access to the aircraft," said Knut Morten Johansen, the information head of SAS.
Norwegian, which also flies to the US, agrees. It will be necessary to allow extra time, and there is also a risk that a passenger might not be allowed to travel.
A worrying unilateral initiative
The new regulations have been produced in the wake of the debate following a sudden ban on laptops earlier in the year from a number of destinations.
The International Air Transport Association (IATA) is unhappy with the regulations and, in particular, the way they have been implemented.
"What we've seen is very odd: unilateral initiatives launched without any consultation whatsoever with anyone. It is very worrying and disruptive," said a spokesperson for IATA.
According to the US Department of Homeland Security, the new regulations are expected to affect up to 2,100 flights per day and an estimated 325,000 passengers.