News
Danish natal guide saving lives in east Africa
---
This article is more than 6 years old.
Results could have far-reaching implications for maternity wards in developing nations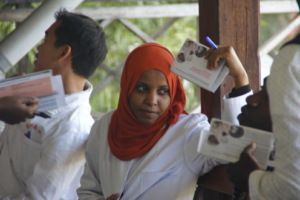 In collaboration with a hospital in Tanzania, Danish researchers from the University of Copenhagen have developed a natal treatment guide, PartoMa, which appears to offer great potential for developing nations.
After the guide was introduced, the number of stillborn children at the Tanzanian hospital dropped by 33 percent and the number of new-borns with poor health has nearly been halved.
"The international guidelines that are accessible are often too complex, time and resource-demanding for the hospital staff at Mnazi Mmoja Hospital to use them; they collected dust on the shelves in the hectic maternity department – where staff were in dire need of knowledge but barely knew they existed," said Nanna Maaløe, the main author of the study and a PhD student at the Department for Public Health Science.
READ MORE: Number of caesarian births under 20 percent for first time in over a decade
Adapted elsewhere?
On a global scale, over 3 million children die either during or shortly after birth every year and had the mothers received proper natal treatment they would almost all be alive and healthy.
The issue is particularly a problem in developing nations in Africa, where underfunded and brittle health systems are under great duress. In the Mnazi Mmoja Hospital, for instance, every doctor or midwife has to assist in an average of 4-6 births at the same time.
The Danish study illustrates the possibilities available at better adapting international clinical guidelines to low-income countries.
"The quality of birth treatment and the number of staff at the hospital remains excruciatingly unacceptable. But we see promising improvements after the PartoMa guide was introduced," said Ib Christian Bygbjerg, a co-author to the research and professor of international health.
"It gives us a good example regarding how far we can go in using existing resources better. One obvious step is to look into whether this local adaptation of clinical guidelines can be implemented elsewhere."
The Danish eight-page pocket guide has been developed in co-operation with local doctors and midwives at the Mnazi Mmoja Hospital and has been approved by seven international experts in natal care.
The research results were recently published in the scientific journal, British Journal of Obstetrics and Gynaecology.