News
Copenhagen enjoys record cruise ship season
---
This article is more than 6 years old.
850,000 passengers visited the Danish capital this year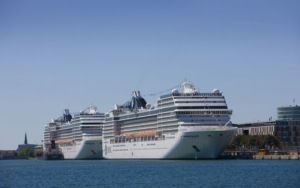 Copenhagen is apparently high up on the list of cities that cruise ship tourists are keen to visit.
So much in fact that 850,000 passengers have embarked from 325 cruise ships to take in the Danish capital so far this year – easily a new record. And there's more to come.
"Aidavita was the final cruise ship to dock at Langelinie during the summer season. Now six Christmas and New Year cruises are expected before the season is completely over," Arnt Møller Pedersen – the COO of Cruise & Ferries, Copenhagen Malmö Port – told Maritime.dk.
READ MORE: New information centre for cruise passengers in Copenhagen
Cruise control
Next year is expected to be even more formidable with 337 ships carrying 875,000 passengers due to drop anchor in Copenhagen. Even Malmö is getting in on the action with nine ships and 10,000 passengers scheduled to stop by.
One of the reasons why the Danish capital has seen so many cruise ship tourists is because it's a popular 'turnaround port' – where ships begin and end their trips. In fact, of the 325 ships to visit this year, 153 were turnaround journeys.
Another area expected to see a drastic increase in cruise ship tourism next year is Visby on the Swedish island of Gotland – which is due to double its passenger total to 90,000 in 2018.