News
Every pic you take, every tweet you make, he'll be watching you
---
This article is more than 6 years old.
Catching up with Oscar Jones, the half-English teenager who is quickly becoming Denmark's most famous and successful autograph collector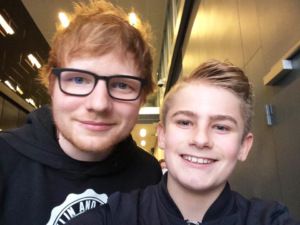 We cheerfully sing along to the frothy pop song 'Every Breath You Take', but we never really question the lyrics.
"Every breath you take, every move you make, every bond you break, every step you take, I'll be watching you."
The song is about a stalker: somebody hanging around street corners and outside the dwellings of the rich and famous with no obvious business, a camera hanging off their neck, binoculars protruding from their pockets.
And we cheerfully whistle it while we're doing the ironing.
Every tweet you make
Oscar Jones has a similar air of innocence about him. But delve deeper into the life of the half-Danish, half-English 13-year-old, and you'll find him lurking outside hotels in the Danish capital, phone at the ready.
In February 2016, he earned himself a full-page write-up in British newspaper the Daily Mail after he greeted the Manchester United at Karup Airport ahead of their Europa League game against FCM.
He audaciously presented the players with an improvised poster of the squad to sign. It was typical of the level of ingenuity he employs in his quest for autographs and selfies from celebrities who he tends to locate using Instagram, Twitter, and Snapchat.
"Every pic you take, every tweet you make, every TV set you break, every step you take, Oscar will be watching you."
We caught up with Jones to get the inside scoop on how he gets to meet so many celebrities and what he loves most about collecting autographs.
---
What inspired you to want to collect autographs?
It all started with the Serbian national football team. I was walking past a hotel and saw the national team staying there. I met them and thought it was so cool.
How many autographs do you have?
More than 1,000! I have got autographs of singers, rappers, YouTubers, soccer players, actors and more. I put most of the autographs in a book or hang them up in my room. I also have pictures with a lot of the celebrities I have met.
What is your process for finding a famous person?
It is not that hard. If you walk past a hotel and you see a lot of Mercedes, bodyguards and limousines, there is most likely a famous person there. There are three hotels in Copenhagen that celebrities stay in: D'Angleterre, St Petri, and the Marriott. If I know that a celebrity is in town, I will go and wait by one of these hotels. Celebrities also post a lot on Snapchat and Instagram so I can tell where they are. I also have this flight tracker app that allows me to see all the planes that are landing. If I know what airport a celebrity is taking off from, I follow the plane until it lands so I know what time to get to the hotel.
Are there any celebrities that have been particularly nice to you?
The Weeknd. I met him during the summer at D'Angleterre. He rolled down his window to sign an autograph. Then his driver started to move, but he asked his driver to wait so I could get a picture with him. Ed Sheeran and Rita Ora were really nice too.
What is the coolest thing that has come from this hobby?
There is a rapper called Playboi Carti. I met him at the airport. He was playing at Roskilde Festival. When I saw him, I asked him if I could get a picture with him and then I walked down with him to his car and asked him if I could get an autograph as well. Then, he asked me if my friend and I wanted to come to his show! We got his manager's phone number and met him at the artist check-in and then we got passes so that we could be backstage during the concert!
Has a celebrity ever recognised you?
The people working at the hotels recognise me. When Manchester United came to Copenhagen, one of the players, Morgan Schneiderlin, who was here two months earlier, recognised me. When I greeted the team at the airport, he said: "Oh it's you again!" He also posted a video of me from when I met him at the airport on his own Instagram account, which has about 2 million followers.
Do you want to sell these autographs?
No, I do it for fun. Sometimes when you see a celebrity twice they think you are a dealer. A lot of bodyguards might think you are a dealer even when you are not, and if the artist thinks you are a dealer they will not sign anything. When I met J Cole, his bodyguard told him I was a dealer, which is not true. His bodyguard then started asking me a lot of questions such as which other celebrities have I met.
Do you have any advice to give to other potential autograph collectors?
Start off by going to small places where bands play and stand at the stage door. When there is a big star coming, wait by the hotel and look for the fans – that is what I do.
Have you ever done something special for the celebrities?
When I greeted Manchester United at the airport, I got a huge poster and printed out the pictures of the players. I think the celebrities really appreciate when I do this because they know I have spent a lot of time working on the poster. The Daily Mail actually wrote an article about me from when I met Manchester United!
Have you ever signed an autograph?
Yes – after greeting Manchester United at the airport with my poster. Many news outlets started filming me, and many people stopped me on the road and said hello! There was this one guy who came over and asked me for an autograph! Also, the media kept on calling me and asking me to come on TV. At the end of it, I was so tired!
What was your busiest autograph collecting week?
One week I met five really big celebrities: Gigi Hadid, Sting, John Legend, Ricky Gervais and J Cole. It was probably my best week ever in the autograph world.
Have celebrities ever given you memorabilia?
Sometimes when I meet football players they give me the shirts they play in after the game. I have got about 50 shirts at home, 20 pairs of boots, and 20 pairs of gloves. I have become good friends with the FC Copenhagen players. I never watch or touch the shirts they play in – they are hung up in my room.