News
Business News in Brief: High mobile pay rate suggests Denmark could soon be a cashless society
---
This article is more than 6 years old.
In other news, the promise of this Saturday's 'Singles Day' shopping event offers little consolation to Matas and ISS following the unveiling of disappointing results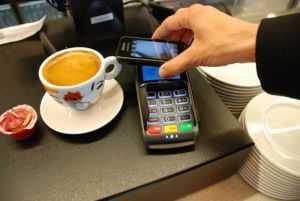 Some 33 percent of Danes have used their smartphones to buy goods or transfer money, according to a survey of Nordic consumers by Deloitte.
The percentage puts the Danes well ahead of the Swedes (26 percent), Norwegians (10) and Finns (6).
Usage could shape cashless future
Frederik Behnk from Deloitte told TV2 there were two main reasons why the Danes are leading the way: a higher proportion of smartphone usage and the easy and simple nature of making mobile payments, thanks to the likes of Danske Bank's MobilePay.
Behnk believes Denmark could very well become one of the world's first cashless societies as shops employ fewer staff and more self-service functions.
---
Shipper sells remaining supermarket shares
Maersk has offloaded its remaining shares in Dansk Supermarked, the company that controls supermarket chains such as Føtex, Bilka and Netto and 32.4 percent of the Danish market, second only behind Coop (37). Salling Fondene paid 5.53 billion kroner for the shipping company's 19 percent stake, taking its overall holding to 68 percent, thus exercising its right when it bought a 49 percent stake for 17 billion kroner in 2014. The deal ends an association between Maersk and the supermarket owner that lasted more than five decades. Salling's association, meanwhile, dates back to the very beginning as Dansk Supermarked was founded by Hermann Salling in 1960.
Get ready for Singles Day!
Elgiganten is among the Danish retailers that this coming Saturday (November 11) will be embracing 'Singles Day', a shopping event day gaining a foothold in Denmark. Since starting in China in 1993, the idea behind Singles Day is that you should be spoiling yourself, not others. It is held on 11:11 because of the emphasis of the singles ones. Elgiganten's chief executive Peder Stedal predicts that Singles Day could soon be as big as Black Friday, which this year will fall on November 24.
Lundbeck on course for record year
A strong third quarter performance by Lundbeck – fuelled by continued progress in North America, Brazil, France, Italy and Spain – has led to the pharmaceutical company raising its earnings expectations for 2017 with a record result possibly on the cards. Sales of its Brintellix depression treatment rose by 55 percent to 1.2 billion kroner for the first nine months of the year, while sales of the depression and schizophrenia treatment Rexulti jumped 64 percent to 911 million kroner. Overall turnover for the period was 12.8 billion kroner – an increase of over 1 billion – while its operating profit more than doubled to 3.5 billion.
Matas disappoints ahead of shake-up
Gregers Wedell-Wedellsborg, the new chief executive of the bodycare and beauty products chain Matas, has unveiled "dissatisfactory" interim results in which turnover rose 0.8 percent and the gross profit fell compared to the same period in its last financial year. Matas is currently cost-cutting – namely closing down unprofitable stores and several of its onsite beauty clinics. A downgrading of its expected 2017-18 result last month saw its share price fall by 14 percent, and it now rests at around 71 kroner, barely half its 2013 launch price of 115 kroner.
Fall in profits at ISS 
Cleaning giant ISS has posted "disappointing"results for the first nine months of 2017, blaming challenging overseas markets, acquisitions, divestments and currency exchange issues for just a marginal rise in revenue to 59.2 billion kroner, as the net profit fell to 1.5 billion kroner. Specifically, northern Europe and North and South America faced operational challenges and start-up costs. Nevertheless, new deals continue to materialise – most  notably one with Deutsche Telekom that covers 9,000 locations using 6,000 employees.