News
Snow predicted next week as 'worst winter for five years' threatens Denmark
---
This article is more than 6 years old.
The last four years have seen warmer than average temperature, contends DMI, but we can expect more of the white stuff this time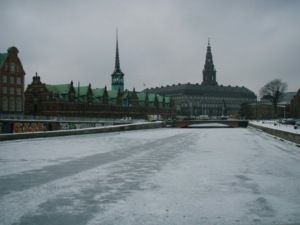 Denmark will most likely get the first snow of this winter later next week, predicts Martin Lindberg, a meteorologist at national weather forecaster DMI.
Snow towards the end of week 46
"Towards the end of week 46, a low pressure system will probably pass over the country from the northwest. At the tailend we may get some sleet or snow showers," predicted Lindberg.
Weeks 47 and 48 – the fortnight beginning on November 20 – will see a steady flow of cold air from the northeast and east, which is also expected to provide snow, which could be "especially strong on the eastern coasts".
However, DMI expects temperatures to rise again, so the snow won't be around for long.
Coldest for five years
A Swedish TV meteorologist predicts that southern Sweden can expect to have the "coldest winter for five years".
Nitzan Cohen, a Swedish TV weatherman, told Aftonbladet that this winter will be comparable to the one endured in 2012-13.
While DMI contends that this country is not Sweden – while Denmark tends to be more influenced by the Atlantic, Sweden is more prone to getting bathed in the winds of Siberia – it notes the winters endured by southern Sweden and Denmark do tend to be pretty similar.
While the 2012-13 winter was chilly, it was nothing compared to the winters of 2009-10 and 2010-11, the coldest so far this century, during which the snow stayed on the ground for over a month each time.
More snow than in previous years
Nevertheless, according to the climate scientist Mikael Scharling, who has compiled a graphic comparing the last four winters to "old-fashioned" average temperatures recorded between 1961 and 1990, the 'coldest winter for five years' is nothing to be afraid of.
"The 2012-13 winter may have been the coldest for the past five years, but in reality it was not very cold. It's the four others that were quite hot," Scharling told DMI.
"Compared to an old-fashioned winter, winter 2012-13 was only 0.5 degrees colder. The winters since then have been between 2.3 and 3.2 degrees warmer. So we are talking about a winter that is 3 to 4 degrees colder than we have experienced in recent years."
Overall,  Scharling concurs there will be more night frosts, more icy surfaces, a greater need for central heating and … more snow.