News
Leisure Industry News in Brief: Tivoli's new food hall opening today
---
This article is more than 6 years old.
In other news, Jagger and the Dutch hotel concept Zoku are also eyeing new locations in Copenhagen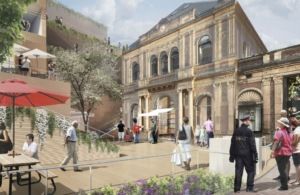 Tivoli's latest venture, a 6,000 sqm food hall with 14 different outlets (see details and video below), is opening today.
Tivoli Food Hall (also known as Tivoli Hjørnet), which occupies the corner of the themepark closest to Central Station, is free to enter and also includes an outlet for Illum, the city department store.
READ MORE: Tivoli to open massive food market
Replacing Hard Rock and Herzegovina
With Papirøen due to close on December 31, the opening is good news for fans of quick, affordable food, as a number of the outlets have a street food flavour.
The corner of Tivoli was previously occupied by the likes of the Hard Rock Café and Restaurant Herzegovina.
---
New hotel concept eyeing Copenhagen
Zoku, an Amsterdam-based hotel concept that provides guests with a room in which they can both comfortably sleep and live, is planning to bring its concept over to Copenhagen. Since opening in the capital of Holland in June 2016, its room options have been a big hit with millennials who travel a lot as part of their work. Overall, Zoku intends to open 50 more hotels within the next 10 years, and it is actively looking for locations in Copenhagen, Vienna, Paris, Berlin, Manchester and Hamburg.
Michelin Star restaurant to close
Den Gule Cottage and Den Røde Cottage, twin restaurants just north of Klampenborg, are closing down on December 20. Restaurant owner Anita Klemensen, who memorably thought her colleagues were winding her up when Michelin called her up to bestow Den Røde Cottage with a star in 2012, stated that the time had come to "seek new challenges".
READ MORE: Plot a course for this cathartic cottage to escape the city
Safarai park unveils Jurassic plans
Knuthenborg Safari Park, which is located about 60-90 minutes' drive south of Copenhagen, is adding a dinosaur section to its grounds. No, nobody's recruited John Hammond to build another Jurassic Park. The 30,000 sqm forest will include a life-sized, roaring Tyrannosaurus Rex model and some fossils, as well as some animals, including the emu – the living animal that many believe most closely resembles a dinosaur today.
High-end burger chain to add fourth location
The rapidly growing burger chain Jagger is opening its fourth restaurant at Nørrebros Runddel. With a capacity for 70 diners, Rasmus Oubæk, the co-founder of Jagger, noted there are more restaurants on the way. Jagger serves competitively-priced fast food made from high-quality ingredients.
READ MORE: Former Michelin chef opening up fast-food joint in Vesterbro
Mark your calendar for the Christmas lights
London has Oxford Street and Copenhagen has Strøget, and tomorrow the lights on the Danish capital's most famous pedestrian street will be switched on at an event that starts at 15:30, which will include free food and a performance by a 40-strong orchestra. Copenhageners will have to wait a little longer for the main event: the switching on of the Christmas tree lights at Rådhuspladsen, which traditionally takes place on the first Sunday of Advent – December 3 this year.