News
Another English-language event at City Hall geared to international voters
---
This article is more than 6 years old.
November 17 panel discussion will consider the role that EU legislation plays locally and why so few internationals voted in 2013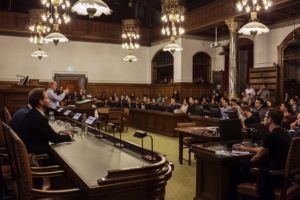 There's no doubt that English-speaking voters are important to the candidates in the forthcoming municipal and regional elections on November 21, of whom an increasing number this year are non-Danish citizens.
You only have to look at the increase in the number of internationals in Copenhagen, where 24 percent of the population are either immigrants or the descendants of immigrants, of which just under a third (7 percent) are from the EU and mostly eligible to vote.
Many did not take the opportunity in 2013, but there is a growing belief that many more will vote this time around, helped not least by events like the one being organised at City Hall this coming Friday.
Europe's role under consideration
The Danish European Movement in co-operation with Havnefronten, Havnefrontens Venner and Kulturklub Bryggen are inviting everyone to 'Europe in Copenhagen', an evening to find out more about the role that the EU and European politics play in local matters.
Almost half of a typical municipal council meeting's agenda tends to relate to EU legislation, and on November 17 experts will participate in a panel discussion and Q&A that seeks to address why this is the case.
Furthermore, the meeting will consider why the EU citizen voter participation rate was so low in 2013 and learn about the vision of local politicians regarding European policies in Copenhagen.
British candidate on panel
The evening will begin with short presentations by panel members Nadja Schou, the legal advisor at Tænketanken Europa, and Peter Krogsgaard, a teamleader in the Office for Growth and Economy at Copenhagen Municipality.
And then proceedings will switch to the panel debate, which will also include Keith Gray, a Scottish candidate for Socialdemokratiet standing in Copenhagen, and fellow candidates Mia Nyegaard (Anna Mee Allerslev's replacement as Radikale's preferred mayor choice) and Jens-Kristian Lutken (Venstre).
READ MORE: Expat among the pigeons: A voice for Europe in the land of the Dannebrog
Participation in the event (Nov 17, 16:30-19:00) is free, but registration by email by Wednesday November 15 is required to guarantee a place in the audience, to which popcorn and beer will be served. Write to peterherborgbay@gmail.com.