Things to do
Concert Review: Breaking Bada$$, Joey's energetic show at Vega
---
This article is more than 6 years old.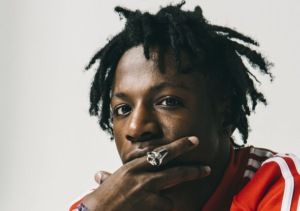 The sold-out status of the show should have been an indicator, but Copenhagen loves them some Joey Bada$$.
Whether it was getting into a mosh pit at his request, screaming every word to every song, jumping into the air in pure joy or, as the song says, doing the "Wave".
On this night Joey was the destroyer and he left the audience 'Devastated'.
All riled up
The audience on this night might have been a particularly frenzied one. They got into a mosh pit early for the warm up act IDK. Maybe they just were an obedient crowd because when IDK asked them to get on their phones and follow him on social media – many seemed to do that too.
When Joey's DJ finally took to the stage, the crowd went absolutely bonkers. He might have been the one encouraging them to jump, but jump they did and energetically.
This could have been the loudest concert of the year. At times though, the beats seemed to drown out Joey's vocals and he did acknowledge these technical difficulties.
No drops in energy
For the all the energy that the crowd had, Joey Bada$$ easily reciprocated with his own charisma. This master of ceremony had the crowd eating out of the palm of his hand, going shirtless midway through the show for maximum effect.
The show was divided into segments and fans were treated both to old hits of his like '95 Till Infinity' and a brand-new track not heard before.
What we all were waiting for
The show closed with performances from his newest album 'ALL-AMERIKKKAN BADA$$'.
The signature tracks 'For My People' and 'Temptation' were a warmup, because by the time he got to 'Devastated', Store Vega wasn't just rocking, it was shaking.
Fans were truly delighted when he, as he said, "took them to 2017". Who else could command an audience, criticise Trump and have concert-goers going crazy in a mosh pit?
Joey Bada$$ pulled it off, and it made for a memorable night.