News
Culture News in Brief: Playing it safe with a family-friendly julekalender
---
This article is more than 6 years old.
In other news, the complete absence of female winners at the Danish Music Awards disappoints the organisers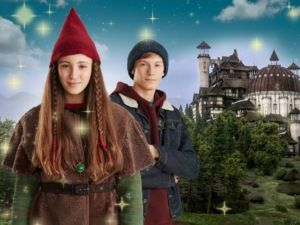 Following DR's ambitious attempt last year to make a julekalender show aimed at the young adult market, TV2 is hedging its bets with the family-friendly 'Tinkas juleeventyr'.
All the classic ingredients are there: some winter settings (mainly on Funen), an elfish hat or two, a sprinkling of love and a mystery – this time involving some missing nuns.
With Cosmo Film in charge – previously responsible for 'Jesus og Josefine' (2003), 'Jul i Valhal' (2005) and 'Juleønsket' – it's a safe bet everyone will be mostly happy.
Norwegian show on DR1
The julekalender is a children's TV series shown every single day in December up until Christmas Eve.
DR1 and TV2 take it in turns to make a new one. DR1 this year will be broadcasting the 2016 Norwegian julekalender, 'Snefald', which will be dubbed into Danish.
Since first screening in 1962, several generations of Danes have grown up watching the program, and many parents are expected to tune in with their children.
---
No female winners at Danish Music Awards
All 12 winners of the Danish Music Awards this year are male. Lasse Lindholm, a spokesperson for IFPI Danmark, the organiser of the awards, noted it was regrettable and "a problem we all have to take seriously". In total, just seven songs of the most popular Danish songs of the year were sung by women, and just eight of the top 100 selling albums – mainly due to the lack of Danish female hip-hop stars, noted IFPI. Among the winners on the night, Scarlet Pleasure won best group and single for 'Deja Vu'. Volbeat won best live act and Rasmus Seebach picked up the public prize.
Aalbæk sidelined at Zentropa
Zentropa has sidelined its co-founder Peter Aalbæk following allegations of sexual harassment and mis-treatment made by nine former employees of the company – mainly student workers. An investigation has been launched into the claims. According to a company statement, Aalbæk will no longer have any influence on the day-to-day management of the company or participate in leadership meetings. He will have no dealings with the students and cease speaking to the media on behalf of the company. The Zentropa statement noted that it "assumes responsibility" for the incidents as they were tolerated by the company culture.
A film of two halves
The Danish film publication Soundvenue  has taken the usual step of giving 'Qeda', Denmark's first live action sci-fi feature film of the 21st century, two scores. Set in 2095 in which Copenhagen resembles Venice due to rising seawater, Soundvenue gave the futuristic scenes five out of six stars. However, it was less impressed by the part of the film set in 2017, giving it three stars. Its overall take was it felt like it was two different movies.
READ MORE: At Cinemas: The niche of nichts: the perils of making a Danish sci-fi
Expert casts doubts on recordbreaker's provenance
Mikkel Bogh, the director of Statens Museum for Kunst, the country's national gallery, has cast doubt on whether a recordbreaking painting recently sold for 450 million dollars (around 2.8 billion kroner) was actually the work of Leonardo da Vinci. The work in question, 'Salvator Mundi', cannot be traced back to its first owner, contends Bogh, which leaves some room for doubt about its provenance.
Viaplay commissions Danish series
The Nordic streaming service Viaplay has commissioned its first ever Danish original TV drama series. 'Pro's and Con's' stars Lars Ranthe and Lene Maria Christensen as two former female con artists now living together in the suburbs of Copenhagen. Studiocanal will handle the international sales of the series.
35th anniversary concert
A concert this weekend at Amager Bio will mark the 35th anniversary of the start of the career of Grandmaster DeePee, an artist credited with being Denmark's first genuine hip-hop star. He is best remembered as a member of Rockers By Choice and the singles 'Engel' and 'Amar' er #1'. Learn more about the concert here.