News
News in Digest: A step ahead of the Grim Reaper
---
This article is more than 6 years old.
Thank you media! Without your advice, we'd all have died years ago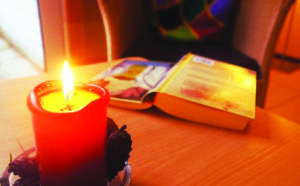 Too much orange juice could kill you – you could drown in it. And it is often with logic like this that we choose to live in fear, fuelled by the media's obsession with telling us the Grim Reaper is waiting around the corner. The last month has been no different.
Homicidal hygge
For starters, stop waxing lyrical about candlelight cosiness! A University of Copenhagen (KU) study reveals 60 percent of the indoor ultrafine particles found in Copenhagen homes stems from candles.
The ultrafine particles are hazardous to our health, and it is advised hygge lovers regularly air out their rooms and opt for small candles placed out of the draft with short wicks.
Pernicious pollution
But will candles kill us? Air pollution will, according to the Food and Environment Ministry, although the main offenders tend to be diesel cars and wood-burning stoves.
Some 3,600 people in this country annually die earlier than they should from breathing in the toxic particles in the air: 550 in Copenhagen and Frederiksberg municipalities alone.
Coughing … or coffin?
Coughing could be a sign you're in trouble. Around 160,000 Danes have a chronic cough – defined as one that lasts for eight weeks or more.
A study suggests it could be a sign of a serious lung infection such as chronic obstructive pulmonary disease. Anyone with a chronic cough should consult a doctor… say doctors.
Doctor death
But you're not safe with one. In 2016, there were 42,797 'unintentional incidents' reported in Danish hospitals, but the real figure is probably much higher, reports Videnskab.dk.
An 'unintentional incident' is defined as being something that causes harm – or the risk of harm – to a patient. Personnel are obliged to report all such incidents, but research points to this often being ignored.
Whacked by Watson
And you can't trust the equipment. For example, 'Watson', a cognitive intelligence computer program devised by IBM to treat cancer patients, has suggested medicine that would have killed the patient, reports Ingeniøren.
An evaluation test found that at least one-third of its suggested treatments were completely wrong. Nevertheless, some hospitals continue to use Watson.
Heartless oversight
Elsewhere, a new report from the health authority Sundhedsstyrelsen has revealed serious deficiencies in the way patients with heart conditions are treated.
Almost every fifth heart patient was either not processed or had not received a plan for their future treatment within the 30 days required by law, TV2 reports. In Region Hovedstaden, only 60 percent of cases were cleared in the first quarter.
Foul play of the jackal
The sight of a European jackal could bring on a heart condition. And now it's warned that it's bringing a nasty passenger with it: the 'dermacentor reticulatus' tick, which carries the 'rickettsia raoultii' bacteria.
When humans are bitten and infected, it can lead to disturbances of the lymphatic system and black tissue scarring. Fortunately, the bacteria is easily treatable.
The cat's pajamas
Who said dogs were a man's best friend? New research by Dansk BørneAstma Center in Gentofte and KU shows that in homes where there is a cat in residence, children have a much smaller chance of developing asthma, reports Videnskab.dk.
Cats neutralise the increased risk of asthma developing in children who have a specific genetic variant. And they also offer the kids protection against lung infections and respiratory infections such as bronchitis.
Dogs came nowhere near to having the same effect.