News
New zero-impact house made solely from biowaste products
---
This article is more than 6 years old.
An exciting project for a building of the future has been unveiled on the Danish island of Funen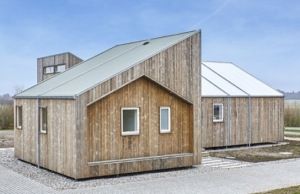 Earlier in the year, a unique house designed by the Danish architects Een Til Eeen, which was supported by the Environment Ministry, opened at the new Biotope eco-park in Middelfart.
READ ALSO: Danish organisations to co-operate on green city platform
'The biological house' is novel in that it has been constructed exclusively from agricultural waste products that otherwise would have been burnt – with the resultant environmental pollution – such as grass, straw and seaweed. The house, therefore, leaves almost no impact on the environment, reports World Architecture News.com.
The cladding used on the outside of the house has been developed in Norway. Called Kebony, it is made of sustainably-sourced softwoods that have been heated with a bio-based liquid that polymerises the wood's cell walls, giving it high durability, hardness and dimensional stability.
"It's been a long project, and we have all certainly learnt a great deal over the course of planning and construction," said Kim Christofte, the CEO of Een til Een.
Modular individuality
'The biological house' is a module-based concept that is easy to adapt to individual customers' requirements and it quick to build because the newest digital production technology is used in its construction.
Another advantage is that the house is easy to remove – without leaving any traces in nature – and easy to re-erect somewhere else.
"It has been a pleasure to watch the team find so many clever solutions to the problems encountered along the way, and we are delighted to finally open the doors to share this unique house with the public," added Christofte.