News
Russian opposition leader's lawyer arrested in Denmark
---
This article is more than 6 years old.
The Danish authorities have detained a Russian citizen connected to opponents of President Putin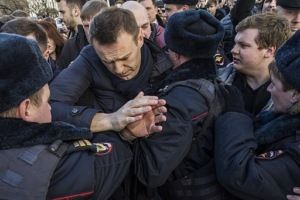 On Tuesday last week, Alexander Panesh, who describes himself as a lawyer for Russia's most prominent opposition leader, Alexei Navalny, was on his way from France to Lithuania when his plane landed in Copenhagen.
Here, he was detained by Danish police because he is wanted by the Russian authorities in connection with the widespread bribery of public officials, corruption, making false statements in court and giving false evidence – charges that he emphatically denies, reports Politiken.
Panesh, who is a Russian citizen, has lived in France since seeking political asylum there after fleeing from Russia in 2015. He fears persecution at the hands of the regime because of his involvement with Navalny, one of Vladimir Putin's most outspoken opponents.
The Russian lawyer has subsequently been charged and will remain in Danish custody until December 19.
Denmark's "duty"
Kim Bagge, his Danish lawyer, said: "It's incomprehensible that the Danish authorities should have found grounds to detain him just because he tangentially touched Danish soil. He's been living openly in France for a year while his asylum request is running its course."
However, Henriette V Norring from the Danish attorney general's international unit said it was Denmark's "duty" to detain him.
"If a person is wanted internationally, it is Denmark's duty to examine the possibility of extradition. In that connection, the court has decided to hold him in custody," she said.
Still hope for lawyer
The Russian authorities have now been asked to submit a formal request for extradition.
Nevertheless, a senior researcher at the Danish institute for international studies, Flemming Splidsboel Hansen, believes the case could increase diplomatic tensions. He thinks the most likely outcome will be that Panesh will be allowed to return to France.