News
Finally! New Nordhavn road gets the green light
---
This article is more than 6 years old.
Nordhavnsvejen expected to have significant traffic impact in Copenhagen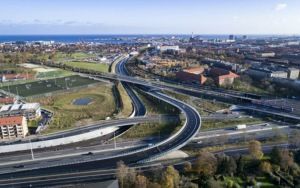 Commuters travelling to Copenhagen from north Zealand will get a long-awaited early Christmas present on the last weekend before the big holiday when the new Nordhavnsvej opens for business after years of construction.
Nordhavnsvej, which links to the Helsingør Motorway and stretches 1.6km across to Strandvænget just behind Svanemøllen Station, will be used by an estimated 30,000-plus drivers on a daily basis and funnel some 15,000 cars away from central residential areas in Østerbro, central Copenhagen and Gentofte.
"Nordhavnsvej will have a colossal impact on all those in the traffic in the area. The cars and heavy container traffic will be led underground and out of the city faster, while the cyclists and public transport will have more space above ground," explained Morten Kabell, the outgoing Copenhagen deputy mayor for technical issues.
READ MORE: Architects propose artificial island alternative to Copenhagen Harbour tunnel link
Celebrating events
The new road, which will include two ramps and a 900m underground tunnel, is expected to ease traffic on key roads like Jagtvej, Strandvejen, Ryvangs Alle, Emdrupvej, Lersø Parkalle and Tuborgvej, while the likes of Østerbrogade, Bernstorffsvej and Kalkbrænderihavnsgade are expected to get more traffic.
The road will be officially opened on Sunday 17 December where cyclists can take a ride through the tunnels. The evening before there will be a Christmas bicycle race through the two tunnel 'pipes' (sign up here (in Danish). There will also be a rollerskating event with a DJ, lights and music on that Saturday night.
Cars will be given the green light on December 18 at about noon – although the road will be blocked off from 20:00-06:00 every evening for the first month or so in order to adjust the system with regards to traffic surveillance, fire safety and technical installations in the tunnel.
See a short video with the new road here.
Eventually, Nordhavnsvej is projected to link up to the planned Nordhavn Tunnel, which will lead traffic under Copenhagen Harbour across to Amager, thus allowing traffic to bypass the city all together.