News
Dear departed doctors, dames, danglish and dronningen of the Crazy Christmas Cabaret
---
This article is more than 6 years old.
As rumours circulate that this could be its final year, CPH POST recalls how Vivienne McKee's show conquered Copenhagen: from its humble beginnings to unparalleled success as an English-language production in Denmark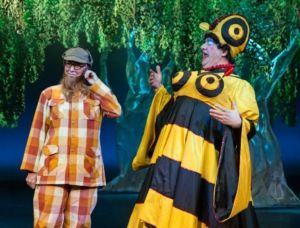 If you want to know how to get Copenhagen, you must be prepared to go all the way – to not give up the fight until one of you is dead!
So here's how you get Copenhagen: he pulls the Dane, you pull the Dame. He makes one of yours cry with laughter, you make one of his die of laughter! That's the Crazy Christmas Cabaret (CCC) way!
After all, any international who's ever enjoyed success with a foreign concept in Denmark will tell you one simple thing: it must be popular with the Danes.
There's no good opening a greasy spoon, fish 'n' chip shop, English pub or, in one case, a Cornish pasty outlet, if it doesn't appeal to the Danes. Forget it!
Nobody knows this better than Vivienne McKee, the founder of the CCC. Now celebrating its 35th jubilee, her audiences are predominantly Danish.
Won over by the charm and easy humour, an estimated 60,000 return every year. They never get the same performance twice, but crucially the winning format never changes.
Crossroads of her career
As an actress in the UK, McKee had a continuing role in Crossroads, one of the biggest soap operas of its day, as well as a plum part as Richard Chamberlain's jilted bride at the end of the big budget Cinderella film The Slipper and the Rose.
But when she moved to Denmark in 1980, she found acting roles harder to find due to the language barrier, and it was then that her husband Søren Hall, a teacher who went on to become her long-term producer, advised her to start her own show.
The impromptu nature of its beginnings was perfectly illustrated when the pair received a phone call from Cafe Teatret, the venue that agreed to stage their first show in 1982. Upon being asked what the name of their company was, they looked to their breakfast table for inspiration, catching sight of a packet of toast bread. "London Toast Theatre," came the answer.
No state from the snobs
When Danish writers refer to the success of the CCC, they often emphasise it has been achieved without state support.
To international readers, this might sounds strange, but state support is considered pretty normal in the Danish theatre world. It explains why the public's choice is often limited to pretentious, experimental pieces that are only attended by a minority in society. Shows like the CCC might appeal to mainstream audiences, but the cultural elite don't approve.
This was an age when overlong DR1 programs about jazz were considered more preferable viewing than the likes of the Eurovision Song Contest – in fact, Denmark didn't enter a song in the contest between 1967 and 1977 due to the snobbish disregard of one man: the DR head of entertainment, Niels Jørgen Kaiser.
How's that for a hoopla?
When the CCC first opened its doors, success didn't come overnight. McKee and her three co-stars would regularly take to the streets before a performance to entice passers-by to come in. Additionally, they would perform at upper-secondary schools, which would study it as part of their curriculum, and it was not uncommon for them to do three performances a day.
It is perhaps fitting that it was an outspoken critic of this cultural elite, Otto Leisner, the presenter of countless light entertainment radio and TV programs, who was the first to champion the CCC. Upon seeing the show in 1982, he invited the cast to appear on his show HOPLA on DR1, the only channel in the country at that time, where their interaction with the audience proved particularly popular.
The exposure proved to be huge as the show quickly sold out. Positive reviews also helped, including one from Teater Avisen that observed: "I have rarely had such fun at the theatre. I completely surrendered to this cornucopia of ideas and whims, jokes and sophisticated language usage."
There were indeed a wide variety of influences at work, including Danish revue theatre and English variety and music hall – the long-running BBC series The Good Old Days had proven popular on DR1 in the 1970s – as well as the spirit of the English pantomime from which it borrowed characters such as the principal boy, who is often played by a girl, and the Dame, a man dressed as a woman.
Lots of stages and strings
By 1984, CCC had outgrown the 80-seater Cafe Teatret and moved to Jazzhus Slukefter in Tivoli, staying there until 1988. Another ten years of stage-hopping then followed, including a four-year stint at Den Ny Teater, before the team returned to Tivoli to take up residence in the 1,000-seat Glassalen. This year, therefore, not only marks its 35th jubilee, but the 20th show at the famous Tivoli theatre.
To mark the 25th anniversary of the show in 2007, Pernille Nørregaard wrote a book about its history: Crazy Christmas Cabaret – Hurrays and Boos for 25 Years. And now, in its 35th year, a documentary is on the way from journalists Torben Skjødt Jensen and Steen Blendstrup: London Toast Theatre – a love story. In between, an exhibition of its clothing, props and other paraphernalia was presented at Teatermuseet i Hofteatret from 2014-2015.
London Toast Theatre, meanwhile, has other strings to its bow. Just this summer, it joined forces with Hamletscenen to co-produce Hamlet at Kronborg Castle in which McKee played Gertrude. And last year, it scored a hit with Shakespeare's Ghost, an original work by McKee to mark the 400th anniversary of the Bard's death.
As well as honest Will, it has staged plays by Oscar Wilde, Harold Pinter, and Alan Ayckbourn – to name just a few – as well as producing plenty of one-woman shows starring the hard-working McKee, voice-over work, corporate entertainment and murder mystery events.
The alumni
It hasn't been a bed of roses all the way, of course. Just two years ago, it won a court case and damages against one of its actors after he called in sick during a run of Don't touch Nefertiti so he could attend an audition in Paris. Upon being ordered to pay him sick pay, London Toast went to court.
The actor in question, Casper Phillipson, could very well go on to become one of the theatre's most famous alumni, as his successful audition was for the role of JFK in the Hollywood film Jackie and he is now developing quite a reputation stateside for delivering live speeches by the dead president.
A certain Dr Bent Van Helsingør from Elsinore would have something to say about that, however. Since his introduction in 1986, his Danglish dialect has delighted many a knowing Dane. Inspired by a man McKee met when she first came to Denmark, his Burberry raincoat, national health glasses and deerstalker Sherlock Holmes hat have become the defining face of the CCC.
From joining the doctor fighting vampires to saving the world with James Bondage, travelling in space with Captain Dick-hard and outwitting the French with the Scarlet Fingernail, the CCC has been leading its audience through a whirlwind of farcical experiences for the past 35 years, with the ongoing 'Planet Rump – The Farce Awakens' (run ends 6 January 2018) the latest show to tread the boards.
Is the fat lady singing?
Given its success, it would be crazy talk to speculate they're ever going to stop. But that is exactly what some media have been reporting lately – that this 35th show will be their last.
London Toast has confirmed to CPH POST that this is a strong possibility and that it will be shortly discussing its future with Tivoli.
So watch this space and, in the meantime, reserve your place for this show, as it might be the last chance you'll ever get to see it.