News
Culture News in Brief: Danish MPs demand streaming service tax
---
This article is more than 6 years old.
In other news, the demand for a music festival in Northern Zealand is sky-high, but not so much for the dubbed DR1 julekalender show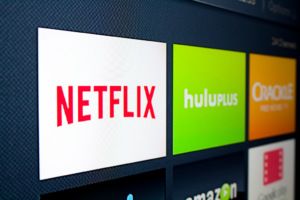 Dansk Folkeparti and Socialdemokratiet would like to see streaming services like HBO Nordic and Netflix contribute more to Danish film and culture.
The parties would like the companies to either pay a streaming tax, or invest a percentage of their turnover into developing Danish output, or both.
Following a strong lead
Nine other European countries have already introduced similar legislation. In France, the companies pay a tax of 2 percent of their revenue and invest a certain amount, while in Italy they invest 5 percent of their total revenue.
Netflix is committed to making around 90 local TV productions in Europe next year, including the Danish horror series 'The Rain'.
---
The advent of Marilyn Manson
December marks the start of Advent – four weeks in which to find a way past all the commercialism to celebrate the birth of Christ. But this month the lighting of the first candle was overshadowed by a different advent: that of the Antichrist Superstar! Yes, that means Marilyn Manson is heading to Aarhus to perform at the Scandinavian Congress Center on June 4. Tickets cost 450 kroner. Also announcing concerts in Denmark were Van Morrison cohort Rickie Lee Jones (Amager Bio, Feb 22, 325kr); early 1980s British synth pop band The Human League (Store Vega, Nov 8, 295kr), US rapper NF (DR Koncerthuset, April 14, 225kr), YouTube star Markiplier (DR Koncerthuset, Feb 28, 260kr), British-Georgian songstress Katie Melua (Operaen, Oct 30, 250kr) and Beck (NorthSide 2018).
Music festival sells out in 20 minutes
The North Zealand music festival Musik i Lejet (July 19-21) pretty much sold out in just 20 minutes. First its 8,000 full festival partout tickets sold out in three minutes, followed by all the one-day tickets for Friday and Saturday, leaving only 300 tickets available for Thursday by the time the website crashed. Meanwhile, they were queuing around the block for 500 tickets sold locally in Tisvilde. For this year's festival, which is famed for its relaxed beach mood, the organisers had raised the partout ticket price from 695 to 995 kroner.
Huge light show in Odense tomorrow to celebrate HC Andersen anniversary
A huge light show featuring an installation by Bruce Munro will illuminate Odense tomorrow evening as it celebrates the 150-year anniversary of Hans Christian Andersen's honorary citizenship of the Danish city. Prince Frederik will be among those in attendance at Flakhaven, the exact location at which the author was honoured in 1867, to enjoy Munro's 'Field of Light' and a huge dance show choreographed by Steen Koerner. The installation will remain in place until the end of the winter half-term in February.
Two Danish films shortlisted for Sundance
Two Danish films – Gustav Möller's 'The Guilty' and Isabella Eklöf's 'Holiday' – have been shortlisted in the World Cinema Dramatic Competition category along with 10 other films at the Sundance Film Festival in January. Both films will be making their world premiere at the festival. 'The Guilty' is a thriller about a home security guard getting caught up in a kidnapping, while 'Holiday' is a gangster film set on the Turkish Riviera revolving around a love triangle. Eklöf co-wrote the script for 'Holiday' with Johanne Algren, a children's entertainment star and author who was formerly married to Distortion founder Thomas Fleurquin.
Satirical Xmas show mocking the Royal Family pulled by DR
The DR radio station P1 took the decision to not broadcast its satirical julekalender, 'Jul i republikken', in which a lot of fun is poked at the Royal Family and elite in general, just one day before it was scheduled to begin. Featuring rising star Claes Bang ('The Square') amongst its cast, the plot involves the royals being abolished and forced to live on a council estate in Amager.  According to DR, the show did not live up to its standards.
TV2 winning battle of the julekalenders
TV2's 'Tinkas juleeventyr' saw off DR1 rival 'Snefald' in the battle of the Christmas julekalender shows on December 1, notching up 926,000 viewers compared to the 799,000 (figures from Kantar Gallup) who tuned in to see what is a dubbed version of the 2016 Norwegian julekalender. And by Sunday December 3, Tinka had widened the gap, scoring 1.096 million viewers to Snefald's 683,000. The shows are not shown at the same time, so it is possible to watch both as they are broadcast.
New CEO of DFI confirmed
Claus Ladegaard has been named the new chief executive of the Danish Film Institute. An employee of the DFI since 2006, he was appointed deputy CEO and head of film support in 2015. The board were impressed by his all-round knowledge of the media and film landscape.
Strong for Danish director's Hollywood debut
The word is strong on Danish director Nicolai Fuglsig's Hollywood debut, which is now post-production and eyeing a February 8 release. '12 Strong' stars Chris Hemsworth ('Thor') and Michael Shannon ('99 Holmes', 'Boardwalk Empire') as members of an elite troop sent into Afghanistan post 9-11. Danish cinematographer Rasmus Videbæk ('A Royal Affair') was also involved.
Something of a beardy coup for Queer Xmas
The Queer Xmas show at Warehouse9 (Dec 6-8 & 14-16) has pulled off (now then) a bit of a coup with the recruitment of Princess Hans, a performer from New Zealand who the French press hailed as "the perfect hybrid of Pamela Anderson and Rasputin" following a run at Moulin Rouge. Head down to Kødbyen's Halmtorvet to check out what organisers describe as a "motherfucker beard".