Things to do
Concert Review: Rocked by a rush of blood
---
This article is more than 6 years old.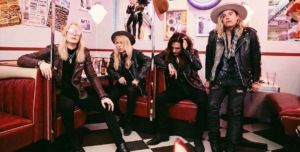 On an icy Sunday evening, the Finnish rock ensemble Santa Cruz rocked the Hard Rock Cafe in central Copenhagen.
Bad blood
Coming out to standout track 'Young Blood Rising', the group set the tone for an energetic evening between them and an intimate collecting of fans.
As loyal fans already know, the buzzing group are made up of a drummer and three guitar players including the lead singer. They sing in English and the audience was singing along.
To take it up a notch they performed some of their new stuff, including 'Bad Blood Rising' first single, 'River Phoenix'.
Running through the hits
With three solid albums dating back to 2013, Santa Cruz had their choice of cuts to play during their one-hour set.
By the time the band got to hits like 'Wasted & Wounded', the crowd was pretty worked up and in a dancing mood.
Mastering the genre
Santa Cruz's music is obviously meant to be performed live, as it literally comes alive with the group rocking the stage.
If you are interested in loud, head-banging music that showcases enough lyrical prowess to keep you captivated, then I highly recommend a Santa Cruz show.