News
Local News in Brief: Copenhagen's light railway experiencing delays – even before it has been built
---
This article is more than 6 years old.
In other stories, food and rats in abundance and there's a festive way to help the homeless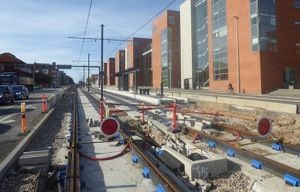 Shades of Aarhus perhaps, but the projected light railway along the Ring 3 road from Ishøj in the north to Lyngby in the south has already run into trouble. Even before the bids submitted by the construction companies have been made public, the transport minister, Ole Birk Olesen, has commissioned another external enquiry by auditors into the budget, reports Ingeniøren.
The original budget figure was 4.4 billion kroner – and that does not include the cost of the trains. Built into this is an amount of financial leeway that should have been 30 percent but because of a cost increase of 360 million kroner, which came to light under the previous transport minister, now only amounts to 18 percent.
Olesen's insistence on a new enquiry, which is only expected to be completed during January, will delay the project because until it is finished it will not be possible for any contracts to be signed.
---
Food, glorious food!
Foodies mourning the pending demise at the end of this year of Copenhagen Street Food on Papirøen (Paper Island) now have reason to rejoice – provided local politicians approve the plan. If all goes well, a new international street food market could open next summer in the 4,000 sqm of buildings comprising Boltens Gård off Kongens Nytorv, which already houses establishments such as the NASA nightclub, reports Berlingske. The plan is for 30-35 stalls and a 1,500 sqm outdoor cobbled yard to provide a permanent food market – with more seating than was available on Paper Island – to serve as an attraction for both local residents and tourists.
Wanted urgently: Pied Piper for Copenhagen
If only they knew it, Copenhagen's rat population would also be rubbing their paws together at the prospect of the projected food market in Bolten's Gård. As it is, the nearby Kongens Have – surrounding Rosenborg Castle – has become so infested by rats over the summer that Copenhagen's agency for culture and palaces, Slots- og Kulturstyrelsen, has had to take drastic measures. The rats are nesting in the rhododendron beds and children's play areas, so traps are no longer enough. Gardeners have had to grub up the bushes using heavy equipment, and during nocturnal hours, when the gardens are closed to the public, officials are patrolling with specially-trained ratting dogs and rifles in an attempt to eradicate the hardy and intelligent rodents.
Alone home – but not in Copenhagen
Figures from national statistics keeper Danmarks Statistik reveal that the number of households consisting of one person has risen by more than 300,000 since 1986. However, Copenhagen has conspicuously bucked the trend, reports Berlingske. A combination of an increasing shortage of smaller dwelling units combined with high prices seems to be the reason, and the capital's loss is the provinces' gain, it appears. "It's a great deal easier to find somewhere affordable to live in southern or southwest Zealand than it is in Copenhagen, where a two-room flat typically costs 2 million kroner or more," said Thomas Hovgaard from the estate agent chain Nybolig.
Not such a bleak midwinter after all, perhaps
In the true spirit of Christmas, the Irish pub Dubliner Downtown on Ny Østergade and GraceKbh are working together to do something to warm the heart of a homeless person over the festive season. People are invited to bring a gift and place it 'under the tree' and the result will be collected on December 23 and distributed to the homeless by volunteers from GraceKbh. Items such as hats, gloves, jumpers and shoes – and anything else to make life easier for people on the streets – are especially welcome. The Dubliner's staff have already started the ball rolling and are looking forward to receiving your Christmas gifts over the counter.