News
International News in Brief: Bang on the money, squared up for an award
---
This article is more than 6 years old.
In other stories, trying to sell Danish agriculture in Argentina, combatting pig disease, remembering fallen combatants in Finland and demonstrating peacefully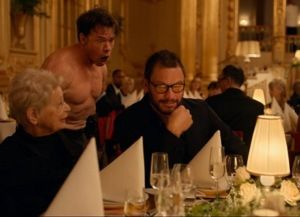 A number of Danish actors have previously been nominated but none, it seems, have been able to make the grade – until now. On Saturday evening, Claes Bang became the first Dane to win a European Film Award for 'best actor' in the film 'The Square'. Earlier in the year, the film also scooped up the prestigious Palme d'Or at Cannes, reports DR Nyheder.
At the award ceremony in Berlin the film walked away with six prizes, including 'best film' and 'best comedy'. Swedish director Ruben Östlund also received a prize for 'best script'. The 50-year-old Bang plays the leading role in the satirical drama 'The Square' as the curator of a museum of modern art with a new exhibition on the way.
Most recently, Bang was in the news for being a member of the cast of the satirical show 'Jul i republikken', which was pulled from DR's P1 before it was broadcast.
Bang has had a long acting career in the theatre, as well as appearing in such films as 'Lærkevej', 'Blå Mænd' and 'Nynne', although he may be best known to the general public in Denmark as the policeman Martin in the TV series 'Anna Pihl'.
---
Danish pro-Palestine demo passes off peacefully
A demonstration took place outside the US Embassy in Copenhagen on Friday afternoon to protest at US President Donald Trump's decision to recognise Jerusalem as Israel's capital. Approximately 500 Danish Palestinians and sympathisers took part in the protest arranged by a number of Palestinian organisations in Denmark, and Enhedslisten's political spokesperson, Nikolaj Villumsen, was one of the speakers who addressed the crowd, reports DR Nyheder. "Trump, [Israeli prime minister] Netanyahu and other dark forces are attempting to make the question of Palestine a religious issue. But the Palestine question is an issue of international law," said Villumsen. Demonstrations took place in other cities round the world, and on Jerusalem's West Bank, one demonstrator was killed and 31 injured by Israeli soldiers.
Export delegation goes south
This week, a number of Danish business groups will travel to Argentina with the agricultural organisation Landbrug & Fødevarer in the vanguard. The intention is to sell Danish food production technology in South America. In 2016, exports to Argentina from the Danish food cluster amounted to 254 million kroner, primarily in the fields of enzymes, farming and food-production equipment. Kenneth Lindhardt Madsen from Landbrug & Fødevarer explained: "Argentina has a number of very large companies – among other things active in the production of pork. These companies control the whole production chain, right from breeding to the sale of the final product. We're visiting one of these, which is looking for solutions in the field of piggery and slaughterhouse equipment, so we have high hopes for the meeting."
Danish appeal to combat pig disease
African swine fever is a disease harmless to humans, but which can cause a painful death to both wild and tame pigs. If the disease hits Denmark it could cost billions of kroner in lost exports. The minister for environment and food, Esben Lunde Larsen, will be meeting European colleagues today and requesting the commission to intensify their efforts to combat the disease, which is spreading towards Denmark. At present, it can be found in Estonia, Lithuania, Latvia, Poland, Romania and the Czech Republic and on Sardinia. The minister would like to see an international expert group set up to produce recommendations as to how best the disease can be prevented. In addition, there should be an increased focus on projects within the EU to develop an effective vaccine that can also be used on wild pigs. "Our goal must be to eradicate African swine fever once and for all from Europe," said Larsen.
Memorial to Danish volunteers in Winter War unveiled
When the USSR attacked Finland in 1939 in the so-called Winter War, around 1,000 Danes volunteered and fought on the Finnish side. On Thursday afternoon a commemorative stone made of granite from Bornholm was unveiled in Helsinki to commemorate the Danish dead and to celebrate Finland's 100th anniversary, reports DR Nyheder. Pia Kjærsgaard, the speaker of the house in Denmark, performed the unveiling ceremony. "It's very important to honour our heroes. Somebody has fought for a cause on our behalf and it is important to remember that," she said.