News
Danish News in Brief: Facebook makes you afraid of terror
---
This article is more than 6 years old.
In other news, the fear of the future continues, whether it's of multiculturalism, religious preachers or the inevitability of a secular society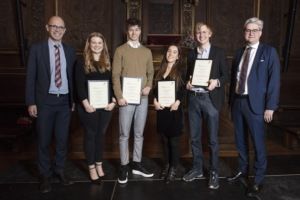 Four upper-secondary school students have been confirmed as the overall winners of the research prize Projekt Forskerspirer 2017 for their work on establishing a link between Facebook consumption and the fear of terror.
Their eight-month study established that young people treat Facebook as their primary source of news, and that 'local' comments on national or international stories tends to bring the threat of terror into their domain.
The award is a nationwide initiative backed by the education minister, Søren Pind, and the University of Copenhagen.
---
Cabaret show accused of racist stereotypes
A cabaret show in North Funen is under fire after a poster promoting the show contained images that many felt used racist stereotypes. Scheduled to run at the Tornøes Hotel from May 27 to July 7, Kerteminderevyen's promo photo features four actors, of which three have been made up to look Native American, Afro-American (wearing a banana dress made popular by 1920s star Josephine Baker) and Oriental. Just in case nobody knows who to complain to, the poster also features a long list of sponsors, and according to Fyens Stiftstidende, some 60 people have signed a letter sent to 10 of them. However, Kerteminderevyen head Mads Nørby contends the photo is simply depicting the stereotypes that the show will explore.
Outrage as school discontinues Christmas service
Danish PM Lars Løkke Rasmussen has waded into a row involving his old school, Gribskolen in north Zealand, where he spent ten years as a child before leaving at the age of 16. The school has decided that students no longer have to attend a traditional Christmas service held at the local church, and it would appear that the PM's intervention has opened the floodgates for other MPs to comment – a lot, as it turns out. "Ashamed", "grotesque", "lack of common self-esteem", "completely wrong", "completely insane" – politicians from parties such as Dansk Folkeparti, Liberal Alliance and Konservative were not holding back, bemoaning the effect of multiculturalism on Danish traditions, but paying less attention to how religion is not a compulsory part of the national curriculum.
Another preacher added to banned list
The Saudi preacher Abdullah bin Radi Almoaede Alshammary has been added to a list of religious preachers banned by Denmark. He will accordingly be unable to enter the country until 12 December 2019, and he is the 11th preacher to be added to a list inaugurated in May. Additions nine and ten, Ismail al-Wahwah (Australia) and Alparslan Kuytul (Turkey), were added to the list on August 23.