News
Watch out! There's a motorised skateboard about!
---
This article is more than 6 years old.
New means of transport are going to be approved for the nation's cycle paths – at least for a trial period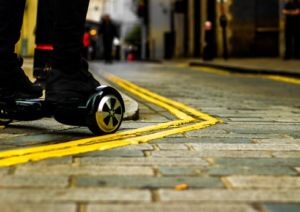 Pensioners and other slow-moving pedestrians will soon have to keep their wits about them even more than usual.
Motorised skateboards, electric scooters, uniwheels, hoverboards and segboards could soon be tearing up Denmark's cycle paths at speeds of up to 20 kilometres per hour.
On Tuesday, Parliament formally passed a law permitting the use of these powered modes of transport, which in fact have been in circulation for some time, TV2 Nyheder reports.
"What we do know is there are Danes who want to [use these devices] because it improves their transport possibilities, and they ought to be able to do so – provided it does not harm others," said the transport minister, Ole Birk Olesen.
More accidents feared
However, the traffic safety organisation Rådet for Sikker Trafik is not so sanguine about the idea. The head of the organisation, Mogens Kjærgaard Møller, is afraid that more accidents will be the result.
"There are some devices that in our opinion are really dangerous in traffic. They are very difficult to manoeuvre and they go faster than most cyclists," he said. There is also the question of breaking.
The rules have not yet been finalised, but a relatively low age limit of 15 is expected along with a maximum speed of around 20 km per hour. There may also be other requirements such as safety helmets and lights in the final ruling.
This does not reassure Møller, who said: "We know who the most dangerous age group in traffic is, and who lives life most dangerously: the 15 to 18-year-olds. It's within this age group that we see the most fatalities."
The new rules are expected to be ready by the summer.