News
Over-complicated system at odds with Nobel Prize ambitions, says university head
---
This article is more than 6 years old.
If Denmark wants to attract foreign high-flyers, they should make the system easier to negotiate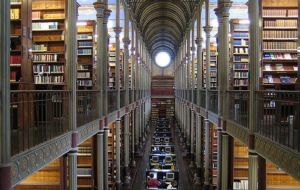 Last week, the minister for research and education, Søren Pind, revealed his ambition to turn Denmark into a leading contender to produce Nobel Prize winners.
READ ALSO: Tech News in Brief: Denmark unveils Nobel Prize strategy
He told Politiken: "It is important to strive for excellence. We need to establish a strong enough scientific environment to compete in the race for Nobel Prizes."
However, the minister's fine words don't always match the reality that foreigners employed by Danish universities meet on a daily basis, reports DR Nyheder.
Trapped in the system
"The problem is that the system is extremely Byzantine. It's simply unnecessarily complicated to obtain a work and residence permit. You have to send a lot of paperwork in and, if you make a mistake, you have to start all over again," said the administrative director of Copenhagen University, Jesper Olesen.
Copenhagen University can point to examples where foreigners have had to wait months just to get a Danish CPR number and have been trapped in what they describe as a 'Kafkaesque system'.
"When you come to Denmark, you have to produce vast amounts of documentation to show that you have a job or are cohabiting. That takes an inordinately long time. The process is so comprehensive that it makes it difficult even for highly-educated academics," said Olesen.
Pind wants to help. In a written reply to DR Nyheder he said: "The government has announced that the problem with foreign academics [running into trouble after] taking on extra work must be solved. I've also asked my civil servants to be specially aware of the things that act as barriers to attracting clever researchers.
A digital nightmare
But Olesen thinks that more needs to be done if Pind's goal is to be realistic.
"There are researchers who have been fined for making presentations in Parliament and for acting as external examiners for other universities. We also have people who are having difficulty getting residence permits for their children, even though they have European passports," he said.
In the civil service department responsible for handling applications, the head of the EU department, Jakob Næsager, says that in general the process is speedy. "The problem is that as a foreigner you don't have a CPR number, and that means you need to turn up in person to identify yourself when you send in your forms if you are not a Danish citizen."
In order to do something to improve the situation, a new digital pilot project has been set in motion in which a small number of employers including higher educational institutions are participating.
"The challenge is that if we want to communicate digitally with those with jobs, they don't have a unique and safe digital identity in Denmark," added Næsager.