Things to do
Concert Review/Q&A: Sweet singing, plot twists and deep stories
---
This article is more than 6 years old.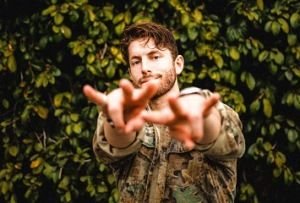 Marc E Bassy's vocal ability was on full display in Copenhagen at Ideal Bar. Backed by a DJ and guitarist only, Marc took hold of the packed bar.
The crowd could not wait to get Bassy on stage and his DJ certainly built the anticipation, playing tracks and asking if they were ready for him. They sang along to the extent that Marc and DJ declared them as the best singing crowd on their European tour.
The deep song about the jeep
The highlight and most emotional moment of the show was when Marc sang the tribute to his father and family, 'Black Jeep'.
The heart-wrenching tune showcased his singing talent, and the feeling seeped out of him – quite a moment.
Twists and turns
California was with him in spirit as Bassy asked the audience to stand in for his bay area collaborators Kehlani and G Eazy. And he even played a G Eazy featured verse on one of the hit collaborations.
By the time he got to 'Plot Twist', the audience was all lathered up for him. Although he mentioned his 'players' in the crowd, this night was all about the ladies.
---
Q&A with warm-up act Scott Helman
Marc E Bassy's warm-up act, 22-year-old Canadian singer Scott Helman, got the crowd going early with his catchy pop tunes.
His hit single 'Bungalow' was the capper, but on 'PDA' he similarly showed hitmaking ability.
He's one for the future who we caught up with after the show.
How did you get started doing music?
I started writing songs when I was 12 – and got a record deal at the age of 15 with Warner Music Canada to put up my debut EP 'Augusta'. I had a single off that called 'Bungalow' that went platinum in Canada, and that was awesome because it allowed me to go on tour.
So that was kind of your breakthrough moment as an artist?
Yeah, when 'Bungalow' hit in Canada, that was really big for me. After the tour I was able to write an album that came out six months ago called 'Hotel de Ville'.
Any favourite tracks?
My single 'PDA' – obviously one of my favourites. My favourite is '21 days'.
The end of the world song?
Yeah, most of my friends are afraid of the way the world is going. My proximity to Donald Trump is a lot closer than yours. Songwriting allows you to find out what you really feel about something. To write a good song you have to really sit down and think – the only way to get over this is to really love each other.