News
Danish News in Brief: Danish MP says all refugees should be deported
---
This article is more than 6 years old.
In other stories, sex tape has serious consequences, Christmas could be delayed by IT glitch and Danish driver delivering more than ottomans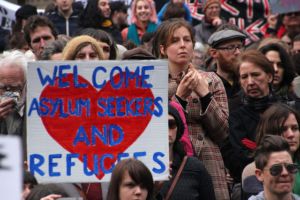 Marcus Knuth, an immigration spokesman for the governing Venstre party, has said that anyone who has been granted asylum in Denmark should be sent back to their home country once it is deemed safe.
A change in currently asylum rules is being demanded by DF in return for supporting the governments proposed tax cuts.
The new rules would allow refugees temporary asylum only, sending them back to their home country when the danger had past and denying them the right to family reunification.
Knuth said that the deportations should happen even if the refugee has a job and has been assimilated into Danish life. Asylum seekers would also be denied access to integration services like language lessons.
Dansk Industri (DI) said that the new rules would create shortages in the Danish jobs market as the refugees have made up for a decline in the number of people coming in from eastern Europe.
DI said in November that the number of EU citizens coming to Denmark to work has fallen by 65 percent in just over a year.
Knuth said that "overall refugees are an economic burden for Denmark".
---
IT troubles at GLS Package Service threatening Christmas in Denmark
A series of IT crashes at GLS Package Service could inhibit its ability to deliver holiday gifts purchased online by hundreds of thousands of Danes. Senol Ilgoy, director at the online store Dataworld said that a crash that started at noon on Monday lasted two or three hours, and then crashed again at about 3 pm. "We cannot send the orders received during the weekend, and we're probably going to have to postpone hundreds of packages tomorrow, " Ilgoy told Ekstra Bladet. "If it does not get up and running soon, it will be a problem to send packages before Christmas Eve."
Sex tape has serious consequences for victim and offender
A 15-year-old girl who was filmed at a party having sex with a 14-year-old boy said that the filming and subsequent uploading of the video to the internet has had "devastating consequences" on her life. A 15-year-old boy confessed in court in Helsingør to filming and uploading the content to Snapchat where it remained online for several hours and spread well beyond the perpetrators 65 followers. He was given a conditional sentence of 20 days and faces a civil charge of 200,000 kroner for taking the mobile video at a private party in Kvistgård outside Espergærde in January. "She will never be the same again," the children's aid lawyer Miriam Michaelsen told Frederiksborg Amt newspaper. Michaelsen said that along with the personal trauma, the family has had to use large amounts of financial resources to attempt to scrub the video from the web. In connection with the same trial, another three young men from the Espergærde area were sentenced to seven days imprisonment for being involved in a similar case a week before where another 15-year-old girl was filmed while she had sex at a party.
Danish handball coach handed 18 month sentence for sexual abuse
A 55-year-old educational assistant and handball coach who abused 28 girls over an 18 year period was handed an 18 month prison sentence in a courtroom in Stige near Odense Tuesday. The man will also not be allowed to work with girls under the age of 18 in the future. The man was charged with assaulting the girls during an 18 year period while working as an educational assistant at Stige SFO and a handball coach in the Stige Handball Club. The man was found guilty of groping and kissing the girls while he exposed himself. He was also found guilty of a single case of illegal intercourse with a minor child. The girls were between six to ten-years-old when the assaults occurred, in the gym and in the basement. The man has denied the charges throughout the extensive hearings in which 18 video depositions and a total of 36 witnesses were heard. The prosecutor demanded that the 55-year-old be detained immediately
Danish driver stopped with over a tonne of hash in southern France
A Danish driver has been arrested and imprisoned in southern France after French authorities found 1.3 tonnes of hash in his truck. The truck was on its way from Spain to Denmark when it was stopped at the southern French city of Narbonne early Monday morning. The estimated value of the hash seized is about 75 million kroner. The driver was alone in the truck when it was stopped. He told French customs authorities that he was heading to Denmark with used furniture. A drug dog checking the trailer found more than old ottomans. "During the inspection of the trailer, the dog showed a lot of interest in some boxes at the bottom of the load," said French authorities. Four boxes containing a total of 683 kilos of hash were discovered in the cargo hold. In addition, the customs officers found 593 kilograms of cannabis and 44 kilograms of marijuana hidden in the truck's lifting crane. The case against the Danish driver is now assigned to the prosecutor's office in Marseille.