News
Japanese company wins competition to build culture centre on Copenhagen's Paper Island
---
This article is more than 6 years old.
Kengo Kuma and Associates was jury's unanimous choice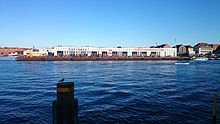 A unanimous jury have selected Japanese architect firm Kengo Kuma and Associates as the winner of the architect competition to design a waterfront cultural centre for Copenhagen's Papirøen (Paper Island) 
Kengo Kuma won the competition with a project that combines a waterfront culture centre, facilities for leisure and sports associations and harbour baths in "a new and original way".
"Sometimes you need to look far and wide to find exactly what you are looking for," said Copenhagen Lord Mayor Frank Jensen. "There is no doubt that Kengo Kuma's vision for a waterfront cultural centre is world class and that it will bring something completely new to Copenhagen but which also fits in with the aesthetic of the city."
A wide net
The City of Copenhagen launched an international architect competition in 2017 for the culture centre, supported by  2.1 million kroner from the Nordea-fonden.
"As hoped, the architect competition has given us a winning project that is world class. It will be a new landmark for Copenhagen and a fantastic framework for the city's residents and leisure associations," said Nordea-fonden Mogens Hugo.
The steering committee that has assessed the applicants is made up of experts from the Culture and Leisure Administration and the Technical and Environmental Administration of the City of Copenhagen, together with a representative from Nordea-fonden and advisors from COWI.
Funding still needed
Morten Kabell, Copenhagen's Mayor of Technical and Environment Affairs said that the new culture centre will "be rich in details, which will be an experience in themselves, regardless of whether you go inside the culture centre, are visiting Paper Island or looking at it from a distance."
World-renowned Danish firm Bjarke Ingels Group was among the finalists competing for the chance to design the building.
The complete renovation of Papirøen is expected to be completed at the end of 2021, when the building of the new waterfront culture centre is also expected to be completed. Funding for the forthcoming waterfront culture centre is not yet finalised.