News
Make like Elvis this Xmas and find a building that wants to party!
---
This article is more than 6 years old.
Here's our handy guide to what's open in Copenhagen on December 24, 25 and 31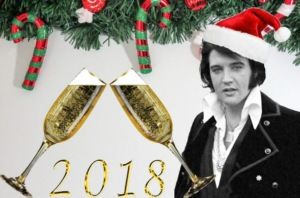 It'll be lonely this Christmas without you to hold. It'll be lonely this Christmas, lonely and cold."
Are we sure Elvis Presley never popped over to Denmark whilst serving in the US army in Germany, because he got that bit spot on!
'Jul' in Denmark, just like juli, is a family affair, while New Year tends to be close friends only, meaning it can get pretty lonely if you don't have an unlikely invite.
Company is waiting
But fear not, for help is at hand from this line-up of restaurants, churches and party venues.
Sure, it might require some serious improvisation to work your way into the church-goers' Christmas lunch, but we're sure you're up to the task.
But remember, you have to venture out of your front door first! In the immortal words of Elvis: "Do the chairs in your parlor seem empty and bare? Then no wonder you're lonesome tonight."
LONELY THIS CHRISTMAS?

Irish Christmas
We couldn't find any Irish pubs open on December 24, but are happy to confirm that the Irish Rover (Vimmelskaftet 46, Cph K) will be open from 12 to 12 on December 25 serving festive offerings from Wild Kiwi Pies. The pub recently moved almost directly across Strøget to a cosy location, but the ethos remains intact. But if it's a Christmas turkey lunch you're after, look no further than the Downtown Dubliner (Ny Østergade 14, Cph K) which is serving all the trimmings, included roasted parsnips, for just 149 kroner a plate until December 23.
Spanish Christmas
Dec 24, 17:30-20:00 or 20:30-23:30; Restaurant Pintxos, Nansensgade 63, Cph K; 545kr; reservations via 3393 6655
If you don't feel like cooking and you want to spice up your Christmas with some Spanish flavour – you should head to Pinxtos. You can cosy up with your friends or family while enjoying a four-course Spanish-inspired meal. You'll start your evening with some great cava, followed by a fish starter and grilled beef tournedos with truffle sauce and potato cakes for the main course, finishing the night with a tasty cheesecake. You also have the option to order takeaway if eating in the comfort of your home is more your style.
Danish Christmas
Dec 24, 18:00; Hereford Village, Frederiksberggade 21, 1 sal, Cph K; 699kr (250kr deposit per table)
The restaurant on Copenhagen's main shopping street offers a real treat for lovers of the traditional Danish Christmas dinner! The event starts at 18:00 and includes a three-course Christmas meal. It begins with a gravlax starter paired with a Sauvignon Blanc, followed by pork stew and duck roasts served with prunes and apple, red cabbage and potatoes. Finally, the three-course meal is finished off with traditional rice pudding with cherry sauce paired with a glass of Graham Beck Rhone Muscadel. Be sure to book your table in advance, as reservations are necessary.
Red Cross Christmas
Sign up before Dec 20 at rodekors.dk/jul/julevenner
Share this Christmas with someone special by becoming a Christmas host in partnership with the Red Cross. If you have extra space around the table, let the Red Cross pair you up with someone who has nowhere to go. You can sign up at their website as either a host or a guest. The Red Cross will then contact you to tell you who you have been paired with. Sign up and spread the joy!
Anglican Christmas
Dec 24, 12:00 & 23:30; Dec 25, 10:30; St Alban's Church, Churchillparken 11, Cph K; st-albans.dk
You can join St. Alban's Church to celebrate Christmas Eve at its popular Children's Carol and Nativity Service at 12:00 or the Christmas Eve Midnight Mass at 23:30. On the 25th, they celebrate Christmas Day with a sung Eucharist Service starting at 10:30. All services are held in English.
Catholic Christmas
Dec, 24 16:00 & 23:30; Dec 25, 10:00; Sankt Ansgars Church, Bregade 64, Cph K; sanktansgar.dk
The oldest Roman Catholic church in Copenhagen celebrates Christmas Eve with a mass for children and families on the 24th starting at 16:00. Midnight mass is held later that night after a Christmas concert at 23:30. On the 25th, join them for their Christmas Day mass at 10:00.
Russian Christmas
Dec 24, from 17:30; Restaurant Rusland, Teglgaardsstræde 5, Cph K; 595kr, with drinks: 1,040kr
Blinis, borscht and a bear blood cocktail. Enjoy all the Russian classics at this newly-opened restaurant. And, of course, a few obligatory nips of vodka.
Multicultural Christmas
Dec 24, 14:00-15:00; Copenhagen Christian Centre, Drejervej 11-21, Cph NV;
The Copenhagen Christian Centre will hold its annual Christmas Eve Service for the whole family. Enjoy æbleskiver and gløgg at nearby Cafe Kant  before getting stuck into the gospel music along with Niels Engell and his orchestra.
Energetic Christmas
Dec 24, 00:00-04:00; Stengade, Stengade 18, Cph N; free adm
If you want to work off your Christmas dinner, Retrograd, the upper floor at Stengade, will be open on Christmas Eve. With DJ Cars10 at the helm, head on over and dance the night away.
Jazzy Christmas
Dec 24, 12:00-14:00; Palae Bar, Ny Adelgade 5, Cph K; free adm
Enjoy swinging jazz notes at Palae Bar, where their Christmas Jazz fixture will make sure that you feel truly festive this holiday season.
CHEERING IN THE NEW YEAR
New Year for families
Dec 31; around town
If Tivoli doesn't appeal, there are a number of key locations you can visit around Copenhagen, although it always helps to be invited to someone's home to start the night's proceedings with the queen's speech at 6 pm. A walk to Amalienborg square to watch the Royal Guard Parade is never a wasted journey, and then where better to see in midnight than Rådhuspladsen (city hall square). One piece of advice: pre-purchasing a pair of safety goggles is a good idea as it can get rowdy.
NY for singles
Dec 31, 18:30; HC Andersen Slottet, Tivoli; runningdinner.dk.
If you are single and between the ages of 40 and 55, then join other singles at this party at HC Andersen Castle in Tivoli. The organisers are apparently responsible for Denmark's biggest singles events.
NY for spectacle lovers
Dec 31, 17:00; Wallman's Cirkusbygningen, Jernbanegade 8, Cph K; from 1,249kr; wallmans.dk
Enjoy an extraordinary New Year show and a five-course gourmet meal featuring lobster bisque, Beef Wellington and a champagne sorbet.  Wallman's stages the best show in town, and excellent company is always guaranteed.
NY for party-animals
Dec 31, 21:00-04:00; Vega, Enghavevej 40, Cph V; 275-300kr, partylikegatsby.eu
Gatsby invites you to party as if you were in the Roaring '20s. A speakeasy will take you back to a time of scandal and chaos when morals were looser and the liquor was downright illegal. (AA)
NY for pyromaniacs
Dec 31, 23:00; Tivoli Gardens, Vesterbrogade 3, Cph V; 99kr; tivoli.dk
This year's Fireworks Festival is the 13th in Tivoli's history, and once again Danish firework champ Gunnar B Knudsen will be taking centre stage. On December 31, expect a spectacular show to greet 2018.