News
Danish News in Brief: Converting to Christianity improves asylum chances
---
This article is more than 6 years old.
In other news, the numbers confirm your chances of being burgled are infinitely higher at Christmas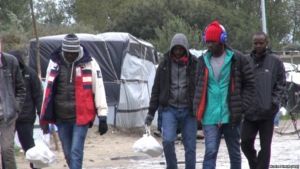 Some 169 asylum-seekers in Denmark converted to Christianity in 2017 – a rise of around 200 percent on figures for 2014-16.
And it would appear to be a successful course of action, as 73 of the 169 seekers were granted a residence permit.
This represents a 43 percent strike rate, which is far higher than the national average of 26 percent recorded in the second quarter of 2017.
READ MORE: Denmark has one of Europe's worst asylum approval rates
Some of the conversions are rejected asylum-seekers ahead of making another application, and it is believed the practice is particularly common among Iranians.
---
Burglary rate on Christmas Eve still too high
Some 130 burglaries were carried out on 24 December, according to Rigspolitiet figures – 2.7 times higher than on an average day. Overall, there were 459 break-ins between December 20 and 24, as families vacate their properties to celebrate the festive period elsewhere. The most popular region for burglars over the five days was North Zealand (63), closely followed by Central and West Zealand (59). Bornhom, in contrast, reported no burglaries. However, numbers are in decline everywhere. In 2013, there were 268 burglaries on December 24 alone.
Police want DNA sweep to catch serial stone dropper
Fyns Politi is hunting a serial stone dropper, it has confirmed. The same DNA has been found on several of the stones flung from motorway overpasses, including a 40 kilo rock in September, and police are hopeful they will be able to collect samples from all citizens living in Tarup in northwestern Odense – the area they believe their suspect lives. However, Socialdemokratiet has been quick to voice its opposition to the proposal. It is believed the serial stone dropper was responsible for the death of a German tourist in August 2016.
Man charged with attempted terror attack
A 30-year-old Syrian man has been charged with attempting to commit a terror attack in Copenhagen. It is believed he was planning in November 2016 to stab random passers-by on the capital's streets and then detonate an explosive device. Police also have reason to suspect that the man, who had previously been an asylum-seeker in Sweden, had links to two young men imprisoned in July for planning an attack in Copenhagen.
Randers fatal shooting sparks manhunt that ends in Germany
A manhunt ensued following the fatal shooting of a 30-year-old man in a forest near Randers on December 22. The police were keen to track down three suspects – two men and one woman –and raided addresses in Aalborg on Saturday, but with no luck. But at around 16:45 on Sunday, the suspects were all arrested near the German town of Neumünster by local police following a cross-border operation that also involved the Dutch. Police believe the victim was active in the criminal environment, but not connected to gangs.
Farewell to the 24/7 pharmacies … all but one will close
From January 1, there will only be one pharmacy open 24 hours a day across the entire country – thus fulfilling plans outlined in the 2015 Pharmacy Act to drastically reduce state funding for nighttime opening hours and increase competition in the sector. Steno Pharmacy opposite Copenhagen Central Station will continue 24/7 as ten other nighttime chemists revert to shorter opening hours: most commonly from 06:00 to 24:00. It is believed that more pharmacy chains will lengthen the opening hours of some of their outlets.
Wolf attacks in the ascendancy
It wasn't long ago that experts were still fumbling in the dark to prove wolves were present in Denmark. Now it turns out there were 11 attacks on sheep in 2013, according to the Ministry of Environment and Food, and this past year has seen 23, killing an estimated 50 sheep. Farmers are compensated by the ministry for their losses, with over 100,000 kroner expected to be paid out in 2017.
We're dreaming of a … Green Christmas
Denmark might not have had a White Christmas, but it had a green one thanks to it being particularly windy. For the first time in history, the country's electricity needs on December 24 were met by energy generated from wind power. Energy consumption tends to peak on December 24 between 17:00 and 18:00 as most families cook their traditional Christmas meals.