News
Out-of-hours GPs resigning in protest over new government surcharges
---
This article is more than 5 years old.
It may soon be even more difficult to get hold of a doctor should you have the misfortune to be taken ill outside normal surgery hours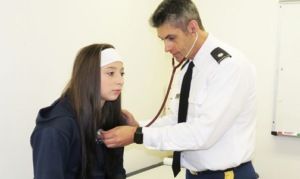 Administrators at the Danish regions, who are responsible for country-wide healthcare, have been receiving some unpleasant tidings this Christmas.
According to the Danish organisation for general practitioners, Praktiserende Laegers Organisation, over 100 out-of-hours GPs have decided to leave the service, reports Ekstra Bladet.
READ ALSO: Emergency medical hotline may be short of doctors for Christmas and New Year's Eve
Initially, 61 predominantly young doctors in Region Southern Denmark resigned in a joint protest. They have now been joined by colleagues in Zealand and mid-Jutland.
What's up, doc?
The bone of contention is a surcharge of 4,000 kroner per annum that came into effect on January 1 this year.
"It sounds like a bureaucrat's decision. They don't know what they're doing when they decide to do something like that," said Ole Holm Thomsen, the head of the out-of-hours doctors in Region Southern Denmark.
The rationale behind the surcharge is that it should cover the cost of a controlling body that checks the doctor's clinic to ensure patient safety is maintained. However, Thomsen thinks the whole idea is misplaced.
"This group doesn't have a clinic from which they work. They go out to patients in their homes, so it is ridiculous that they should have to pay a surcharge," he said.
A vital cog in the system
The 61 doctors who have resigned have been an important part of the healthcare system in Region Southern Denmark because they have taken on a lot of shifts that otherwise would not have been covered.
Stephanie Lose, the chair in Region Southern Denmark, also feels the surcharge is a bad idea.
"This is just a non-starter. It's jeopardising the out-of-hours system in the region, and at the end of the day it will make it more difficult for us to recruit GPs in future."
"It has never been the intention to make conditions worse for out-of-hours doctors. The idea was to ensure the quality of the system," added the health minister, Ellen Trane Nørby.
The minister is hoping that a solution can be found through a reorganisation of the system.