News
Danish News in Brief: Immigrant population numbers to rise steeply compared to ethnic Danes
---
This article is more than 5 years old.
In other stories, the Danish government extends a helping hand to refugees and more women are being given ambassadorial posts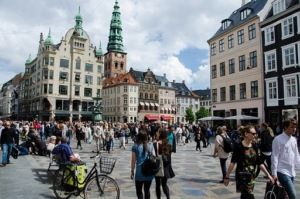 By 2030, every fifth person in Denmark between the ages of 20 and 69 will either be an immigrant or the child of an immigrant, concludes a new analysis from the confederation of Danish industry, Dansk Industri (DI).
In terms of concrete numbers, that translate to 720,000 people – 160,000 more than today. Over the same period, there will be an estimated 128,000 fewer people of Danish extraction in the same age-group. "It is absolutely vital that we as a society make a great effort to integrate them better into the workforce," said DI's deputy head Steen Nielsen. "If more immigrants and their descendants enter the job market, they could make an important and necessary contribution to society."
Birth rates are falling fast amongst people of Danish extraction, and immigrants are coming in to plug the gap. However, it is important they are channelled into the education system. "Well-educated descendants of immigrants are almost as likely to be in employment as well-educated Danes," said the DI deputy head.
---
Government announces 90 million kroner refugee aid package
The northern area of Rakhine in Myanmar is in the throes of one of the most serious refugee crises of recent times. It is estimated that since the end of August alone, almost 650,000 Rohingya people have fled from their homes to neighbouring Bangladesh. The Danish development minister, Ulla Tørnæas, has decided to make an immediate contribution of 35 million kroner to the beleaguered people though the UN's food program. "I visited Cox' Bazar in Bangladesh in October and saw how critical the refugee situation was," the minister said. On top of this, there will also be 55 million kroner earmarked for three 'forgotten' crises in Africa. Here, the money will go to refugees in Sudan, Tanzania (where 500,000 refugees from Berundi and Congo are at present camped) and the Central African Republic.
A changing of the ambassadorial guard makes way for more women
A sign of the New Year perhaps, but a number of Danish ambassadorial posts around the world – as well as jobs at the Foreign Ministry – have changed hands recently. All in all, 50 positions have been in play. What's new is that for the first time, the upper tier of the foreign office will consist of more women than men. Another 'first' is that there will now be a woman ambassador to NATO. Liselotte Kjærsgaard Plesner will take over from Michael Zilmer-Johns, who will take up a post as head of the Foreign Ministry's protocol department.