News
Culture News in Brief: Rufus Gifford makes fast start on road to Congress
---
This article is more than 5 years old.
The former US ambassador isn't the only one attracting the big names, as the BBC World Service has recruited some of Denmark's biggest names to take part in its Copenhagen radio show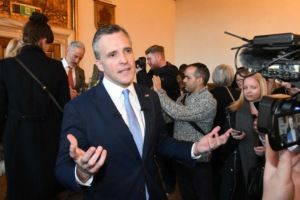 Reality TV star Rufus Gifford, the former US ambassador to Denmark, has enjoyed a productive start to his first 45 days running for Congress.
He has already raised half a million US dollars, attracting a total of 1,100 contributions, to support his election bid in Massachusetts Third Congressional District.
Some experienced faces onboard
Gifford has enlisted several Barack Obama election veterans, using contacts he established as the former US president's national finance director working on his 2012 re-election.
"I'm thrilled by this level of support and the amazing number of people who are coming together around our campaign," said Gifford.
"We exceeded every goal we set, which will allow us to run the type of grassroots operation we want to run, connecting with diverse voters across the district."
---
BBC World Service to record episode in Copenhagen
BBC World Service presumably asked for the crème de la crème for the Danish episode of its monthly radio program 'The Arts Hour on Tour', which will be recorded in Copenhagen on January 17 at Republique theatre in Østerbro. The line-up includes film director Lone Scherfig, crime author Jussi Adler-Olsen, comedian Omar Marzouk and actress Birgitte Hjort Sørensen. The program will air at 16:00 on January 28 and again a day later at 10:00. Free tickets are available to the public to watch it being made – click here and here for more details.
Zentropa off the hook but still on Arbejdstilsynet's radar
The Danish working environment authority, Arbejdstilsynet, is not finished with Zentropa despite finding no occupational health problems after investigating nine allegations of sexual harassment at the film producer. Zentropa has launched a number of initiatives aimed at installing new norms and values at its workplace, and Arbejdstilsynet will offer future counselling. Meanwhile, its co-founder Peter Aalbæk will be returning to work in around two weeks after an self-imposed exile following the allegations.
Cartoon nominated for best Danish film award
A Danish cartoon, 'Den utrolige historie om den kæmpestore pære', has been nominated for a Robert Best Film award – the first time a work of animation has been included for 11 years. The other four films in contention are 'En frygtelig kvinde', 'Mens vi lever', 'Underverden' and 'Vinterbrødre' – the favourite if the number of total noms is anything to go by. Elsewhere, though, there were few changes, as Trine Dyrholm and Nikolaj Lie Kaas have once again received acting nominations. The winners will be announced on February 4.
Von Trier wins prestigious European award
Lars von Trier, 61, has won the Sonning Prize – an annual honour bestowed by the University of Copenhagen to an individual who has proven to be an asset to European culture. "He has created great artistic significance in many different genres – so masterfully that he juggles with all sorts of cinematic possibilities," said Milena Bonifacini, the chair of Akademirådet, a state culture body that put Von Trier forward for the award.