News
More fighters deployed in 2017 in response to Russian aircraft encroachment in Danish airspace
---
This article is more than 5 years old.
Unlike Sweden and Finland, Denmark's defence minister remains unconcerned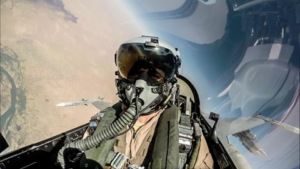 Last year, the Danish Air Force was forced to deploy its F-16 fighter jets 37 times in response to Russian aircraft approaching Danish airspace.
That's almost double the 20 times the jets were deployed in 2016 and on a par with the extraordinarily high frequency of air challenges in 2014-2015.
The defence minister, Claus Hjort Frederiksen, contends that it's a conscious strategy that indicates that the Russians are once again stepping up its activities in the Baltic region. However, he said, the Russians are no threat to Denmark.
READ MORE: Russia criticises 'unfriendly' Danish rhetoric
Swedes skittish
That opinion is backed up by Major Karsten Maarup, the head of the Centre for Air Operations at the Defence Academy.
"They [the Russians] now have more resources at their disposal after scaling back their activities in Syria. And they also aim to make a counter-reaction to NATO building up forces in the Baltics," he said according to DR Nyheder.
"We don't really need to worry much about the more active Russians. It's not that there is greater friction between Denmark and Russia. There's nothing to worry about."
Meanwhile, in Finland and Sweden the governments are taking the situation far more seriously. The Swedes, who are not in NATO, have gone as far as warning its citizens to be prepared in case of war.