Things to do
January Events: Sex in the modern age – logged in and turned on
---
This article is more than 5 years old.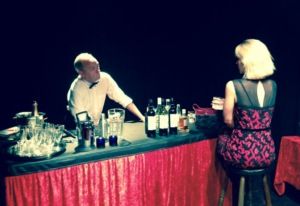 Following a successful two-day run in October 2016, resident House of International Theatre (HIT) groups Manusarts and Down the Rabbit Hole once again present 'Sex and Betrayal – Between the Sheets', an evening of humorous cabaret that delves into the worlds of sex and adultery.
This English-language performance directed by Jeremy Thomas-Poulsen features segments of Daniel Glattaue's famous novel 'Love Virtually', a series of emails between two lovers, which examines the fundamental differences between the dwellers of Mars and Venus and the challenges of dating in the modern world.
Combining Glattaue's text with anecdotes and music, this is a story of love and betrayal featuring lovers, sexual appetites, internet acquaintances and dangerous liaisons – a tour of our collective cultural conscience that just like many ill-advised affairs, you won't want to jump off.
HIT regulars will encounter familiar faces in the three-actor cast. Siegmar Tonk and Jana Pulkrabek's last outing was in the CPHCulture prize nominee Slapstick Sherlock in early December, while Tom Hale took starring roles in both 'A Patriot's Guide to America' and 'Venus in Fur' last year.
---
Camping Fair
Jan 19-21; Bella Center, Center Boulevard 5, Cph S; 80kr; campingibella.dk
Camping's come a long way since our youth, when it was perceived as more punishment than pleasure. Leaving all your electronic devices at home, it's a welcome chance to switch off, recharge and ultimately count your blessings for all the modcons that make modern life such a breeze.
Chess
Jan 19-Feb 17; Tivoli Concert Hall; from 225kr; chessmusical.dk
If you're not put off by your favourite musical being translated into Danish, then there's a treat waiting for you at Tivoli. After all, the music was written by Scandinavian cousins Benny Andersson and Björn Ulvaeus of ABBA, and losing the lyrics of Tim Rice is hardly a disaster.
Trad On The Prom
Jan 20, 20:00; Greve Teater- & Musikhus, Portalen 1, Greve; 250kr, portalen.dk
This is Ireland's number one dance and music experience according to the promoters, and it will duly deliver all your favourites, such as Riverdance and Lord of the Dance. Six dancers and six musicians guarantee an evening of classic Gaelic fun.