News
Business News in Brief: Eliminating the boss from mental health evaluations
---
This article is more than 5 years old.
Elsewhere, Pandora, Novo Nordisk and Nordea all have reasons to feel aggrieved, but there's good news for Bang & Olufsen and Area9 Lyceum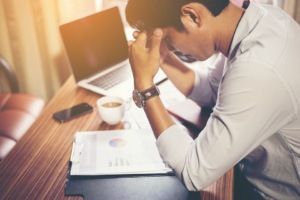 The government intends to amend the Working Environment Act so that the Arbejdstilsynet workplace authority can interview employees about their mental health without their boss present.
Workplace stress affected 23,175 people in Denmark last year – a more than 50 percent increase on 2010.
READ MORE: Eight out of ten Danes have stress symptoms
Would help in sexual harassment cases
Troels Lund Poulsen, the employment minister, explained that the measure would particularly help if there were sexual harassment allegations involved.
It is believed Parliament has broad support for the proposed change to the act.
---
Foreign student debt problem growing
Two ministers – Karsten Lauritzen (tax) and Søren Pind (education and research) – have asked for help from the European Commission in recovering loans issued by the state to foreign students who have since left Denmark. Foreign students are increasingly taking out SU loans from the Danish state – up from a total of 1.13 billion kroner in 2012 to 2.03 billion in 2016 – and the defaulted repayment total had risen to 426 million as of 2016. Legislation supported by the EU would make it easier to recover some of the debt. As things stand now, Denmark's only realistic option is bilateral agreements with individual countries. The five countries that owe the most are Germany, Iceland, Sweden, Norway and the UK.
Bang & Olufsen resurgence continues
Electronics company Bang & Olufsen has announced a pre-tax profit of 53 million kroner for the second quarter of its 2017-18 fiscal year – a significant 34 million kroner improvement on the same period a year earlier. B&O Play, the division that produces portable speakers and headphones, made the difference with a 30 percent surge, while the company's core business only saw revenue rise by 4 percent. The results continue the company's recent resurgence, bouncing back from losses of 208 million kroner for 2015-16 and 117 million last year.
State allocates huge sum to learning technology company
Area9 Lyceum, a learning technology company, has been handed 190 million kroner in state funding by Vækstfonden – the largest ever amount allocated by the fund. The funding puts the spotlight on a company that provides solutions to the banking, insurance, pharma and education sectors, using a computer program that tailors training and courses to the skills and education level of every individual employee. Vækstfonden has handed out 20 billion kroner to more than 6,600 businesses since its creation in 1992.
Novo offer not good enough, says Belgian biotech firm
Novo Nordisk has failed with a 19.4 billion kroner offer to buy Ablynx, after the Belgian biotech company said it was not interested. It felt the offer was too low given its future earnings potential. However, Novo's offer corresponded to a 43.9 percent premium on the value suggested by its share price, which might alert Ablynx's shareholders to the potential gains from a sale, even though the share price has now jumped since the bid. Ablynx specialises in treatments for blood disorders, and its star-performing drug is Caplacizumab.
Nordea the worst bank in Denmark – survey
For the ninth consecutive year, a Voxmeter survey has named Arbejdernes Landsbank as Denmark's best bank, while Nordea and Danske Bank are two of the worst. Some 50,000 bank customers assessed 20 banks, ranking Danske Bank 17th and Nordea 20th. In particular, the respondents took issue with Nordea making arbitrary decisions and providing bad experiences, while its reputation took a hammering when it was named in the Panama Papers. Danske Bank, in contrast, improved in the area of customer satisfaction.
Pandora shares plummet following disappointing US sales
Shares in jewellery company Pandora fell by as much as 12 percent following the release of provisional sales figures for 2017. A disappointing projection that total revenue would only amount to 22.8 billion kroner, blamed on disappointing US results that were not helped by a weak US dollar, did most of the damage.