News
Nielsen remains Denmark's most common last name
---
This article is more than 5 years old.
But fewer Danes have surnames ending in '-sen'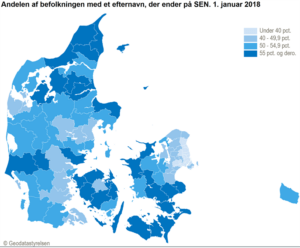 Connie, Brian, Brigitte, Holger K – in Denmark, forget about keeping up with the Jensens, as the Nielsens are all over the place.
In fact, as of January 1, there were exactly 249,088 Danes with Nielsen as a surname – about 1,300 more than the number of Jensens, a name dropping in popularity as many opt for double-barrel versions, or their mother's maiden name.
Think about that for a moment. About 9 percent of the Danish population is named either Nielsen or Jensen. Throw Hansen, Pedersen and Andersen into the mix and you've covered a million Danes!
With 64 percent, the island of Læsø is the municipality with the highest share of people who have surnames that end in the suffix '-sen'. Meanwhile, Ishøj has the lowest share at 29 – a low percentage that is common in other municipalities in the western suburbs of Copenhagen.
READ MORE: Noah and Sofia the most popular newborn names in Denmark
Ishøj takes issue
According to national statistics keeper Danmarks Statistik, the area's high number of immigrants and their descendants are the reason for the low prevalence of surnames ending in '-sen'.
And actually, despite the high number of Nielsens and Jensens, fewer Danes have surnames that end in the '-sen' suffix.
Over the past 25 years, the share of Danes with surnames that end in the '-sen' suffix has dwindled significantly from 62 to 47 percent.
The most popular Danish surname that doesn't end in the '-sen' suffix is Møller, followed by Lund, Holm, Schmidt and Østergaard.